Want to tap into the soaring app economy but looking for the right roadmap? Want to figure out what types of apps there are, which ones are most successful, and where's the money? We've got answers.
Creative people aren't limited by scope of ideas. Most of you are capable of developing a number of different types of apps that vary in their function and technology. So which idea in particular should you pursue is a popular question in most people's minds. The answer begins by understanding the basic classifications of apps.
Apps differ by the technology they use, the category they fall under, and the people they serve. Let's dive into each and decipher key differences between various types of apps.
Types of mobile apps by technology: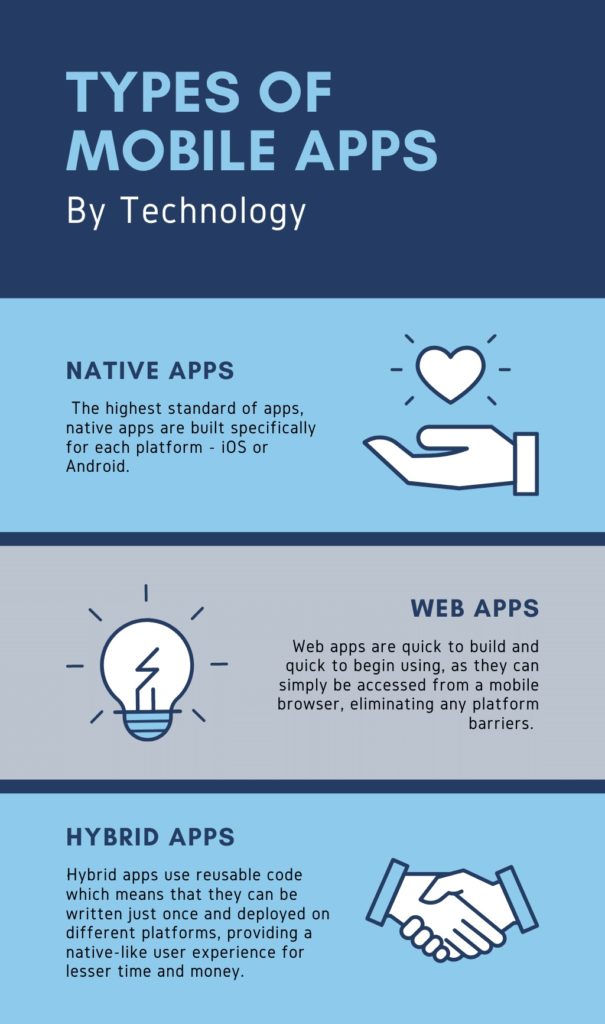 Native apps: The highest standard of apps, native apps are built specifically for each platform – iOS or Android.
Web Apps: Web apps are quick to build and quick to begin using, as they can simply be accessed from a mobile browser, eliminating any platform barriers.
Hybrid Apps: Hybrid apps use reusable code which means that they can be written just once and deployed on different platforms, providing native-like user experience for lesser time and money.
Types of mobile apps by category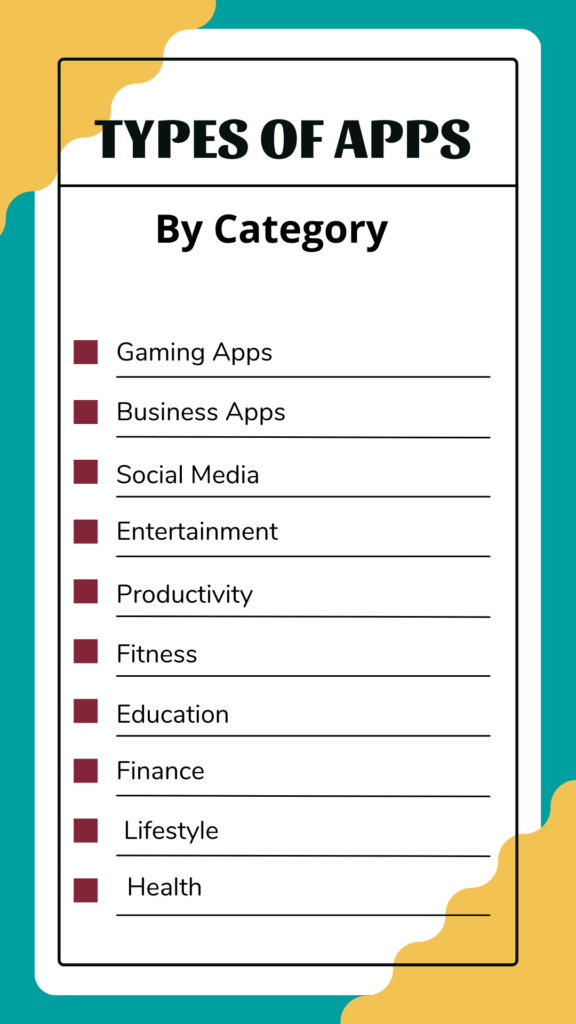 App stores classify mobile apps into different categories helping users find the app they want faster. Some categories of mobile apps consistently perform better than others in terms of engagement and revenue, for example all the popular social media apps and streaming apps. All other categories usually operate in niche markets where they have a set of targeted customers they serve. Some of the most popular app categories are:
Gaming Apps
Business Apps
Social Media Apps
Education Apps
News Apps
Lifestyle Apps
Finance Apps
Productivity Apps and many more
Types of mobile apps by business channel
Business to Business or B2B apps: Apps that are built for use by another business to streamline their operations, increase productivity, simplify complex business processes, or meet specific industry needs are called B2B apps.
Business to Customer or B2C apps: Any app intended for use by the end consumer is called a B2C app. All popular apps you find on app stores are B2C apps. Check out all you need to know about B2B and B2B apps here.
Choosing the right type of mobile apps
Anyone planning to build an app for their business will be faced by the dilemma of which type of app to build. The biggest decision that will affect everything from the budget to the reach of the app will be the best app development technology to choose for your app. Native, Web, or Hybrid? That's the question.
The answer will depend of various factors including budget at your disposal, the kind of customers you wish to reach, the quality standards you set for your business, and the long term capacity for app maintenance.
Let's begin figuring this out by understanding in detail what each of these technologies are.
Native Apps
Some of the most popular apps you know and use are native apps. Twitter, Netflix, Pokémon Go, Spotify, Facebook, WhatsApp and many more widely used apps are all native apps. In fact, Facebook famously announced in 2012 that it was a big mistake betting too much on HTML5 and that they will from now on make Facebook a native application.
Native Apps Pros
The reason app developers gravitate to native applications is the sheer quality and performance that comes with building an app from scratch within the platform's specific design guidelines. Every app needs to be coded at least twice, once for iOS and once for Android. While this takes the work of developing two different apps, the result is impeccable. Native apps are faster, smoother, can handle more traffic, and work without a glitch.
Most importantly, native apps can integrate seamlessly into device features thereby creating a wonderful ecosystem of functionalities such as opening the camera or turning on mobile data or accessing the navigation system seamlessly as and when required. Your users wouldn't need to exit the app or even make an extra few clicks to use these services. The app would intuitively just know what needs to be done when, to give your users a truly top of the class experience while using the app. It is these little things that makes the best stand out from the rest.
So you can now say that native apps are the best of the brood. Why then, would anyone pass up on them and need other types of apps at all? Are there any cons to native apps? There are some.
Native Apps Cons
Native apps are expensive. That's probably the biggest limiting factor that makes businesses look for alternatives. As we said earlier, native apps need to be written specific to each platform. You need a team of Android developers and a team of iOS developers. You need twice the resources as well as twice the maintenance. It all adds up to added expense only some can afford.
Native apps take longer to build and deploy, which also becomes a concern for certain businesses that want to go to market faster.
From a customer standpoint, native apps need to be downloaded to the user's device and can take up sizeable storage, which can sometimes be a barrier to adoption. Most users upfront look for light apps that don't eat up device storage or take too long to be downloaded and installed.
Those are the few, but fairly limiting challenges to native mobile app development that send businesses in search of alternative types of mobile apps.
Web Apps
Web apps are more like responsive websites that can be accessed from a web browser. They differ from ordinary websites in that once opened, they display on the entirety of user's screen, hiding the browser tabs and other non-app entities. So the user experiences an immersive app with interactive features and unique branding. Yet, they didn't have to download anything or install anything.
Web apps pros
Web apps don't need to be downloaded, and don't take up device storage, making adoption easy for users who are wary of storing too much on their phones.
Web apps offer much of the same benefits to users as native apps, and are preferred by businesses for their cost efficiency, development speed and no download barriers.
This way, web apps set businesses free of any device or platform limitations, allowing them to reach any user with an internet-enabled phone. This is a massive win in customer reach.
Building web apps is cheaper and faster, allowing small and medium businesses to scale quickly by enhancing their digital presence.
Web apps cons
Since web apps rely on web browsers, your app features may be limited by the browser capabilities. Depending on the browser they use, not all users may have the same experience while using your app.
Web apps aren't as efficient as native apps when it comes to integrating hardware features like camera, network, and navigation system among others. So if you wish to offer rich functionalities such as navigation, motion detection, video, etc. you might experience sub-par performance.
Hybrid Apps
Hybrid Apps, as the name suggests, are a middle ground between native apps and web apps. They use special technologies that allow the reusing of code. So your hybrid app developers can write code just once, and run it anywhere with some customization for each platform. This way, your app achieves native-like performance without having to build two or more apps from scratch for each platform.
Hybrid apps are made possible by special technologies, languages and frameworks like React Native, Flutter and Ionic. A great deal of small and medium businesses are now preferring this type of apps thanks to their unique benefits.
Hybrid apps pros
Hybrid apps achieve native quality performance, sport top notch designs, and offer rich user experience, at a much lower cost than native apps.
Hybrid apps allow businesses a much wider reach. They can be used by people using any device, be it iOS, Android, Blackberry, Windows, Symbian, or any other for that matter. Hybrid apps are the answer to device fragmentation, allowing even users with some really old phones to access your mobile app.
Hybrid apps allow up to 80% code reuse, and yet, let you use the rest 20% to customize the app for different platforms. This lets you achieve the most authentic user experience and branding.
Hybrid apps cons
Hybrid apps have not as many cons as few limitations. They cannot quite match up to native apps in speed and power, which limits their scalability and ability to handle heavy lifting. Although this only becomes an issue if you have a particularly ambitious project in mind that needs to run a gamut of complex functions. For most small to medium business apps, hybrid apps are a very useful technology.
What's the right type of app for you?
Let's consider the key decision factors for choosing the perfect type of app for your business.
Native Apps: I have a big budget and only want the best quality there is.
Web Apps: I need an app that's quick to roll out, easy on the pocket, easily accessed by all and meets basic standards of quality.
Hybrid Apps: I need an app that offers good to very good quality performance and isn't too heavy on the company's budget.
Wrapping up
Choosing the right type of app can be difficult decision. After all, this is something that can determine the future of your business. Every decision is a careful balance of price, quality and time, among many other important factors. This blogpost should serve as a basic refresher on how the three major types of apps differ from each other and help you decide which one works best for you.
If you're still confused, consider this. Native apps are indeed expensive. Most small to medium businesses do just fine with hybrid apps, as they provide just the right balance of features, performance and cost.
Get in touch with us for a free consultation and we can talk at length about your specific requirements to help you figure out the best types of apps for your business.