An icon is often the first thing users notice about your app in the app store. It is a huge part of your branding and goes a long way in making the right first impression. That is why a great deal of thought and caution must go into designing the perfect icon.
Ever since the very first computer came into existence, icons have been the primary pint of UI. In the early 80's, icons were only black and white outlines in a grid, and slowly they began to take on color, form and dimension. Today, we have an abundance of richly designed, highly graphic and realistic icons. Here is a super-interesting piece about the history and evolution of icons.
Today, with over 2 million apps competing for attention, making your icon stand out from the crowd and try to represent your app in less than a square centimetre of space is a monumental task. However, with the right guidelines, you can create a truly distinct and memorable icon.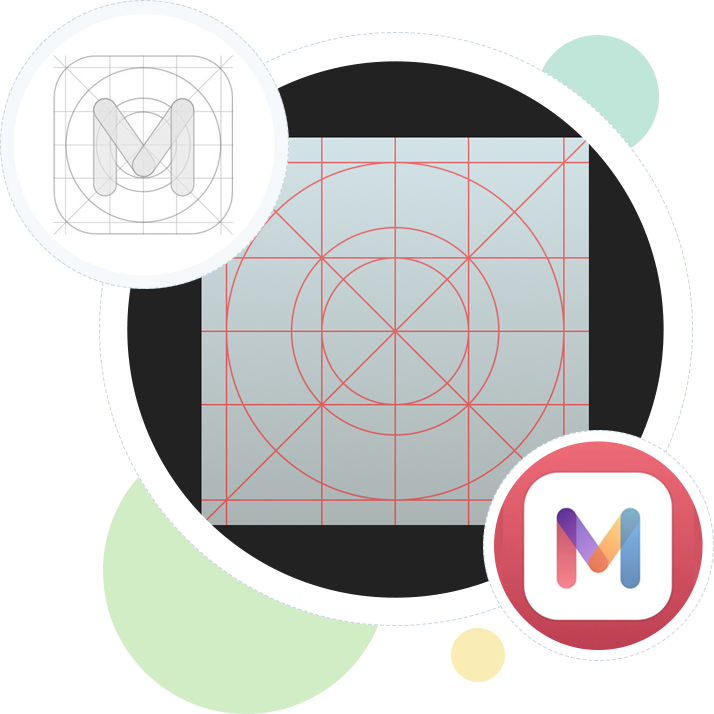 Icon Sizes
First of all, it is important to create an icon of the right size. While the app store will display the full icon, the push notifications will display a smaller version of it. Your icon must be such that it stands out no matter how small the display.
Refer the image below to get an idea of how your icon should be designed. The distinct, primary focal point of your icon design must lie in the innermost circle and the outer edge of the square should be left blank or have minimal design. This way, even in the smallest display, the icon should clearly render itself. The outer edge may be cut off from the display in many cases, so keeping it empty will prevent crucial elements of your design from being cropped out.
Minimal Design
Trying to squeeze an entire scene in a square centimetre is seldom a good idea. Stick to just one central idea that represents your app and make that your icon using a minimal, clean design. You could use a background to enhance the readability of your icons, or do without it if your icon itself is bold and distinctive enough. The Tinder icon for example, works well even without a background.