For the uninitiated, it might appear that the list of top ridesharing apps of 2022 has three contenders – Uber, Lyft, and Ola. However, ridesharing apps comprise a burgeoning market valued at 21.42 billion US dollars in 2020 and projected to reach USD 61.24 billion by 2026, growing at a CAGR of 17.32%.
This jump in popularity of ridesharing apps is a result of several factors. For starters, urban commutes have become increasingly longer and more expensive. The ability to carpool without hassle helps commuters save money as well as find a cab faster and easier. Hence, rideshare apps have caught the fancy of young urban and suburban commuters.
People today are much more environmentally conscious and everyone wishes to help the environment in whatever way feasible. Carpooling apps make this possible. They help riders cut their carbon footprint per ride in half or even lesser.
Car-pooling apps help reduce traffic congestion, with two, three or even four people travelling together, bringing only one car on the road instead of four. If done properly, car-pooling has the power to dramatically improve the traffic situation, helping curb pollution and congestion in one fell swoop. Ridesharing apps make carpooling extremely convenient and quick.
Tech HQ reports that the development of driverless cars and autonomous vehicles will generate global revenue of $173 billion by 2024.
Massive Business Opportunity In Rideshare App Development
Despite companies like Uber and Lyft controlling the lion's share of rideshare apps market, there is immense business potential in this area for entrepreneurs and savvy startups. This list of the top ridesharing apps in 2022 proves that many other companies including some very new ones have quickly made a place for themselves in this growing market, and many more can too. After all, the road is long – literally and figuratively – and we need as many easier commute options as possible.
So read on to see how the Davids AND the Goliaths of ridesharing apps made their mark and when you're adequately inspired to take that first step towards ridesharing app development, our engineers will be happy to walk the talk with you.
So What Is Rideshare App?
Essentially, ridesharing apps offer an app based platform for private taxi drivers and different local travelers to find each other. So if two or more people in the same area wish to travel to destinations that are also fairly close to each other's, they can hail a taxi together. Fares are split accordingly and both – the environment and the user's money – are saved a little.
Top Ridesharing Apps 2022
Coming down to the real deal – here's a list of the best ridesharing apps of 2022. These are the apps that provided the best car riding services to their users, made their drivers the most money and shaped an entire industry towards more responsible commuting.
1. Uber: The Ridesharing App Pioneer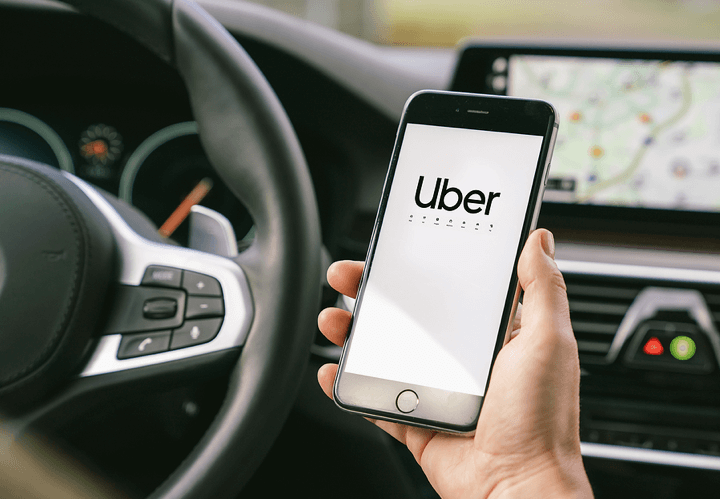 You'd have to be living under a rock if we need to tell you what Uber is. This is the company that revolutionized the taxi market in early 2010s, launching an app that connected riders with taxi drivers, providing an easy way to travel. Founder Garrett Camp realized the value of an app based platform while he lived in California and hailing a taxi was a harrowing experience.
Uber brought about a paradigm change in the way we hail cabs. It became the brand people would associate with when they thought of hailing a ride. Taking US by storm, Uber successfully expanded to Europe, Asia, and South America. It is operational in over 900 cities globally with over 5 million drivers worldwide, completing an average of 18.7 million trips per day.
Uber generated $25.9 billion in gross bookings by the end of 2021, with mobility gross bookings of $11.3 billion and delivery gross bookings of $13.4 billion. Their income grew 83% YoY to $5.8 billion in 2021, successfully bouncing back from the massive downfall due to the pandemic. (Source)
Uber features riders love
Option to pay by app or cash (in places where app payments aren't as common)
Driver rating system
Scheduling in advance
Multiple drop-off points and split-payments feature for ridesharing
Express Pool – special service for more affordable rides starting as low as $2 (only available in some locations)
Uber features drivers love
Special tech assistance for hearing impaired drivers
Bonuses and incentives for number of rides completed
Passenger rating system to identify difficult riders
Option to opt out of Uber pool if drivers so wish
2. LYFT: Similar Model, Different Culture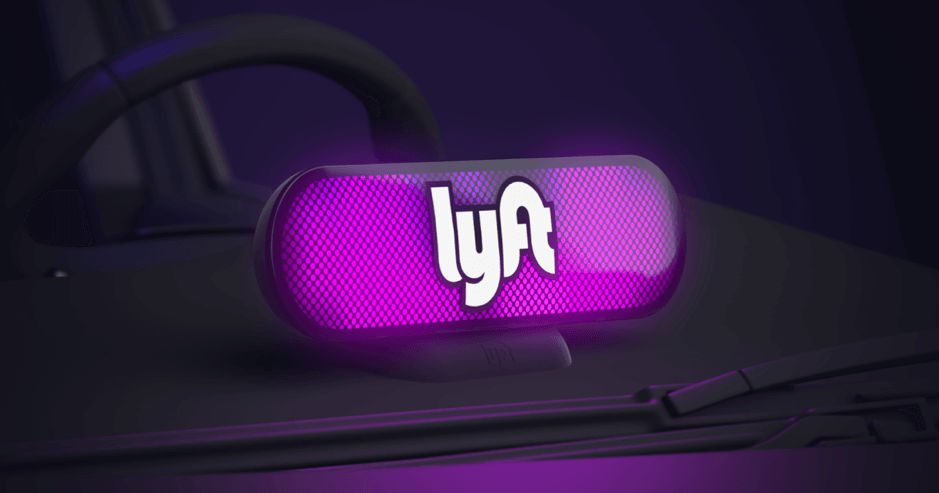 LYFT can be considered the closest rival to Uber. It entered the market in 2012, shortly after Uber, and has successfully demarcated itself from Uber. While they both offer a similar core offering, it is the experience that LYFT differentiated itself on.
LYFT branded itself as a friend with a car – offering a more personal drive experience with more conversation and welcoming atmosphere. Another big difference that draws a loyal base of customers to LYFT is the transparency in its billing and invoicing. Even though Uber seems to outweigh Uber in technology and the amount of area it covers, LYFT clearly denotes all the pricing, billing details, duration of travel, standard fares, additional charges and more, making customers feel completely clear about what they are paying for. It is this transparency that really keeps LYFT users loyal and has kept the ridesharing app successful despite Uber's heavy competition and wider market penetration.
Lyft features riders like
Discounts on Shared-saver rides
Lyft Amp – a glowing sign device to help find your cab at night
Strict security checks for drivers ensure rider safety
Quick pickups with 'one tap to ride' option
Lyft features drivers like
A separate driver app customized to drivers' needs
Allowing drivers to choose their timings marking their ride as last ride for the day
Neat system for tipping drivers
3. Ola: India-Based and Expanding Worldwide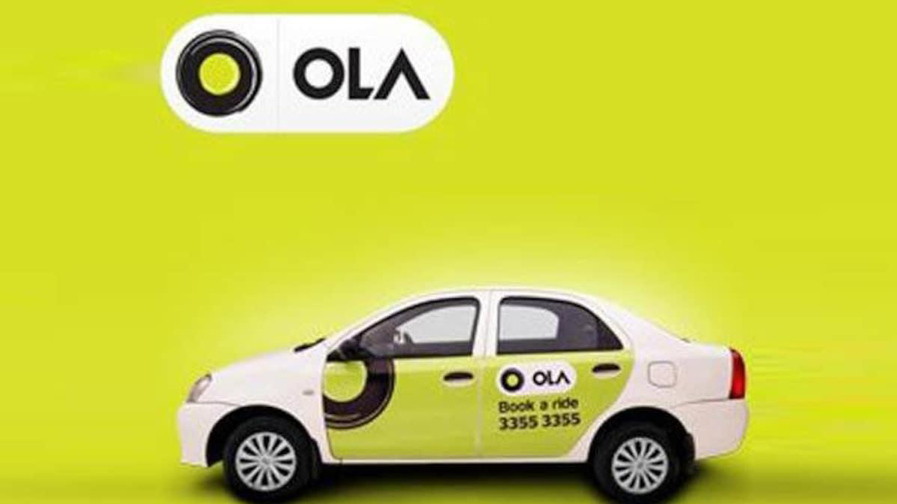 An India-based cab hailing and rideshare app, Ola not only gave Uber tough competition in its home market but also swiftly expanded to several countries including United Kingdom, Australia, and New Zealand. It is India's largest mobility platform. Its electric vehicle arm, Ola Electric is propelling the company to an even more environmentally responsible ridesharing app that has received impressive traction in its early stages in the market.
Ola features riders love
Roadside assistance, safety features like panic button
Wide range of price options
In-cab Wi-Fi and entertainment options
Ola features drivers love
Daily payment for drivers
Live support 24/7
Lease options for drivers without a car
4. Gett: Israel-Based With Massive International Following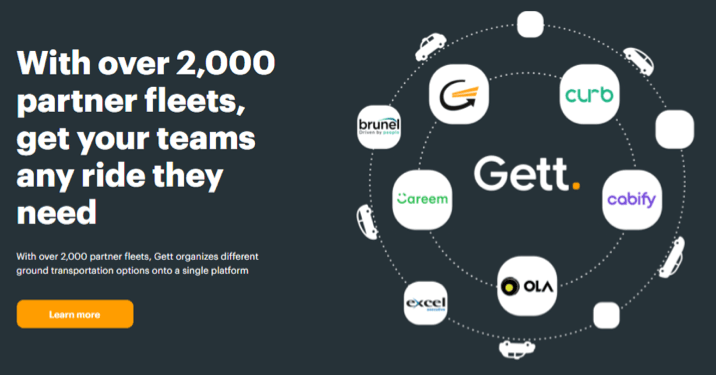 Formerly known as GetTaxi, Gett services taxi hailing and ridesharing services in over 100 cities with a massive user base. It operates in countries like Israel, Russia, UK, Europe, and even offers a partnership with Lyft in the United States. In fact, Gett services many European countries that don't yet have Uber and as a result, could actually be servicing more users than Uber. Lately, Gett has focused its attention on corporate accounts. It claims to be able to save companies nearly 25%-40% in costs and stands to build a stronger business in this branch.
5. Gojek: More than Just a Ridesharing App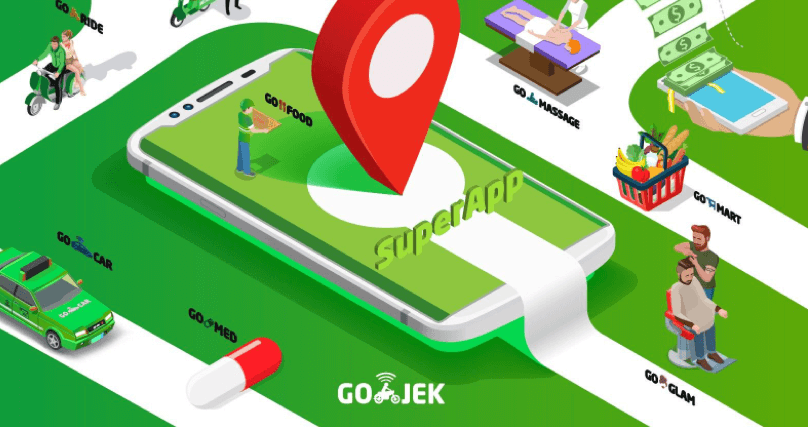 Active in 4 countries, GoJek offers attractive services that go beyond hailing a cab. In addition to ride-hailing, food delivery, motorcycle rides and more, GoJek also helps customers move heavy goods and perform a variety of additional tasks. Offering this wide range of services keeps GoJek profitable in competitive markets and ensures steady revenue.
GoJek features riders love
Easy payment options in various forms
Help with moving, shopping, hauling goods and various errands
GoJek features drivers love
Free skill training to get better at business, English, communication, and much more
Health insurance, other employee benefits
6. Via: Quick, Small, and Proud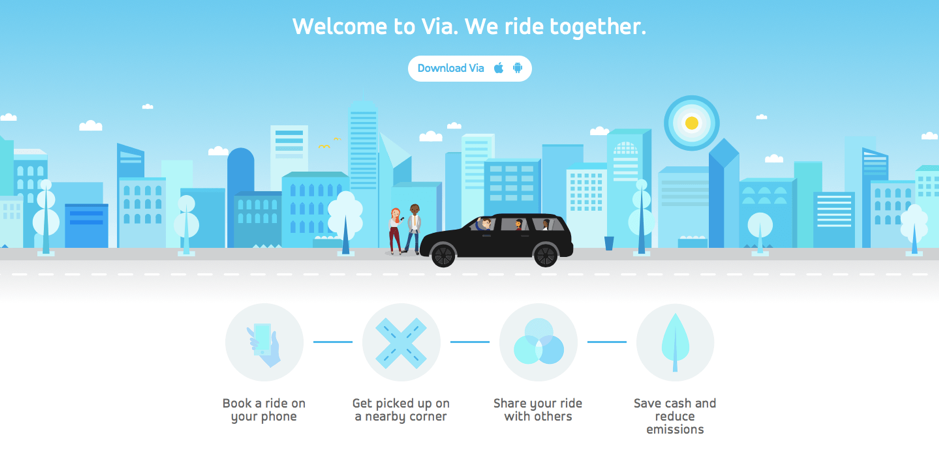 Via operates its taxi and ridesharing services in 20 countries, of which 6 are countries it operates in directly and other are in partnership. The outstanding point about Via is that is emphasizes on the environmental aspect of ridesharing in its marketing and messages. Savvy riders with the intent to be responsible get to see rides passing through their area as soon as they book a ride. The service is fast and affordable, making Via a top choice in countries it operates in.
Via features riders love
Fast and affordable
Corner-to-corner pickups
Real-time support
Via features drivers love
Car renting options for drivers without their own car
Flexible hours
Signing bonus of up to $400
7. BlaBla Car: Classic Carpool Made Smart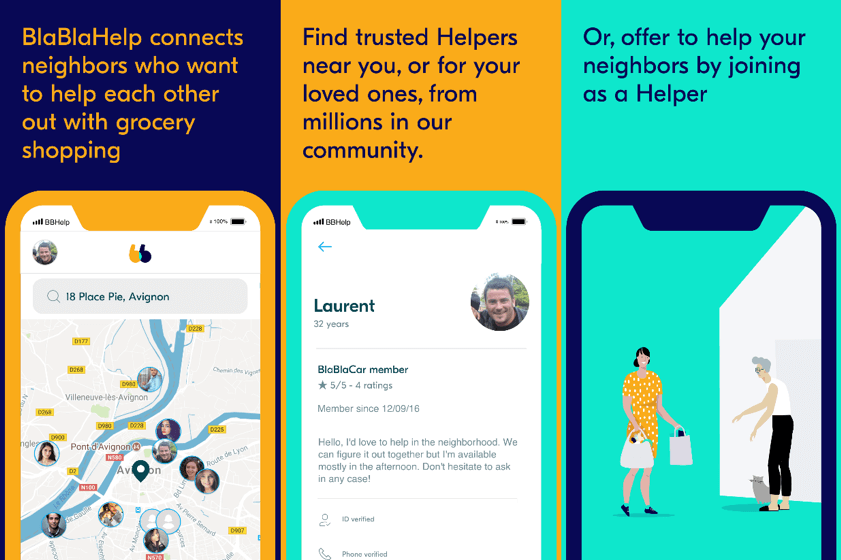 BlaBla car puts a smart spin on ridesharing apps making them more accessible and fun. Instead of focusing on commercial drivers alone, Bla Bla Car allows anyone with a car to list their car on the app. Once they identify their route, anyone interested in going to the same route can book a ride and share their expenses.
This business model lets Bla Bla Car earn a 12% commission on every booking. Great business, great savings for the environment.
Bla Bla Car features riders love
Affordable, safe, less commercial
Ability to book last minute seats
Women-only option or women
Bla Bla Car features drivers love
A fun Bla Bla rating scale lets drivers rate passengers based on how chatty they are
Well-made app lets drivers post a trip in seconds
Drivers get to choose who rides with them
8. Bridj: Making Group Travel Smarter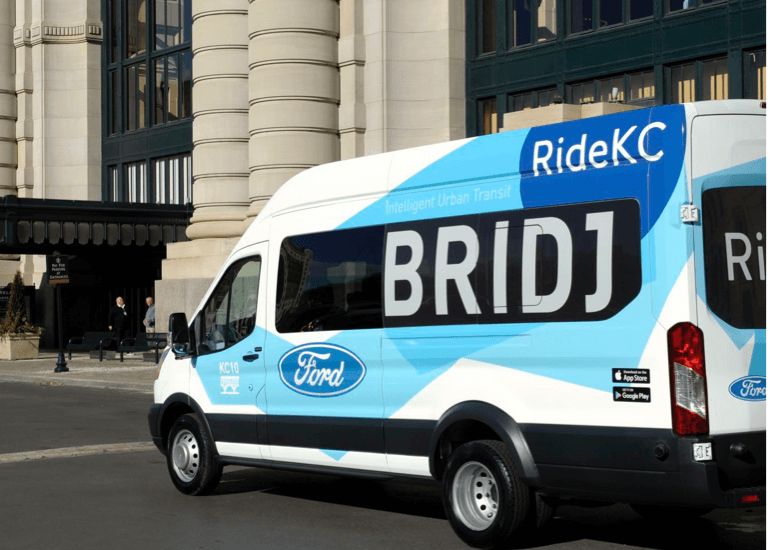 Planning a family trip, road trip with friends, or a big event? Group travels don't need to be booked the archaic way. Bridj – an Australian rideshare app helps book chartered buses, vans and big vehicles to transport large groups of commuters and give them an advanced app-based experience making travel easier and more convenient.
Bridj features users love
Wi-Fi, USB charging
Walking directions to pick-up points
Disabled-friendly access
Bridj features drivers love
Tablet access to track passengers
Free training
Dedicated driver app
Turn-by-turn navigation
9. GoKid: Carpool for the Kids 
You thought the above services pretty much had it all covered, right? Well, GoKid filled a gap that made lives of a lot of parents much easier. GoKid built a digital platform that lets parents take turns driving kids to school, providing busy parents a safe, friendly, and reliable travel option for their kids. Parents can choose to let their kids travel with other parents they trust and the digital platform makes arranging the ride extremely comfortable and smooth. Parents who find it difficult riding their kids to school due to time compresses, and cannot leave kids with paid commercial drivers breathe easy with GoKid.
GoKid features drivers love
• In-app messaging for parents
• Inviting friends to join
GoKid features riders love
• Real-time tracking
• Mutual favors – no payments involved
10. Careem: Understanding Its Culture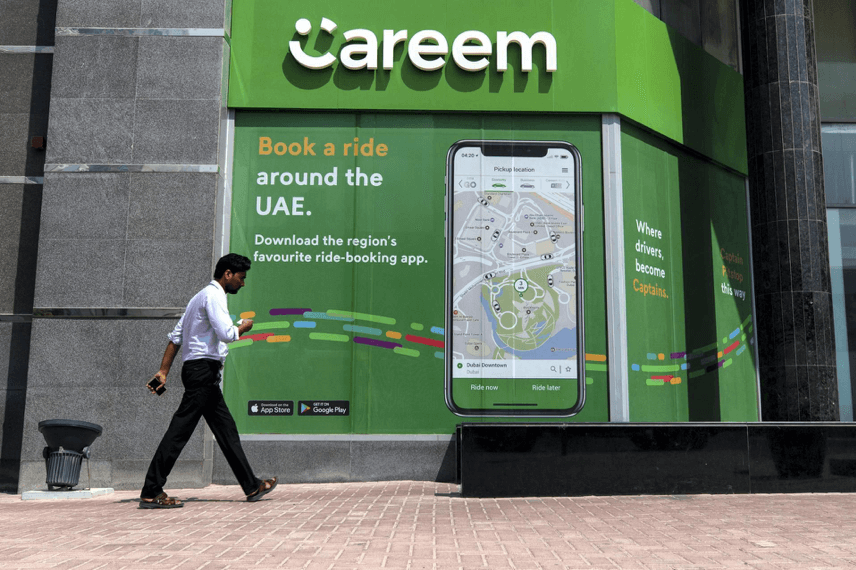 Careem dominates the ridesharing market of Middle-East and North Africa. Offering services in more than 100 cities, Careem prides itself in social causes and also truly immersing its services in an understanding its culture. In addition to building a strong business presence, Careem also built a social image with emphasis on creating jobs in developing markets and raising money to support 700,000 refugees through their rewards donation program.
Conclusion
As you can see, despite Uber pioneering and dominating the ridesharing app niche, many other emerging startups and entrepreneurial minds not only gave Uber tough competition but also filled gaps with creative solutions, becoming highly loved services among loyal customer bases. Clearly, no idea is taken up and exhausted by just one player. If you have the desire to make your mark in a niche, there's always a strategy to do it and succeed. Just remember to play to your strengths and understanding your market nuances.