2020 was the year of fascinating mobile app statistics that made digital
transformation more mainstream than ever. It was the year that not only
brought in a record breaking 218 billion total app downloads, but also turned
app store underdogs like business and finance into the most popular app
categories, launching unknown apps into overnight superstardom. 2020 app
download statistics reveal surprising demographics and interesting data on app
spend, expose new app categories on a growth spree and of course, unearth
app usage and revenue data, that keeps on growing.
In this feature today, we'll take a look at mobile app statistics that will heavily
influence app development in 2021. These app statistics represent the
consumer mindset in a rapidly shifting digital landscape. They help app
developers, businesses and entrepreneurs map out their digital strategies and
make informed, data backed decisions.
1. Startups with Mobile Apps Attracted More Funding
Venture capitalists invested $73 billion into mobile companies in 2020.
According to data from Crunchbase, businesses with a mobile solution amassed26% of total global funding. Startups and small businesses that have mobile
apps tend to receive more funding than those that don't. Top categories that
amassed investment included e-commerce, fintech and transportation.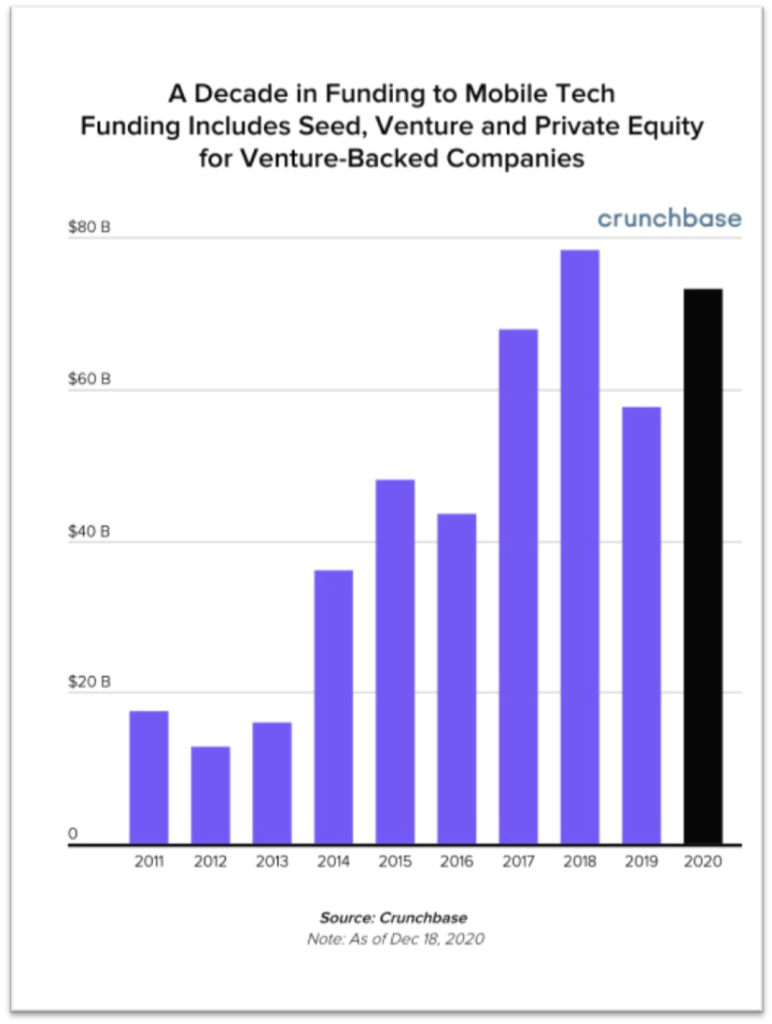 Source: App Annie Intelligence
The message is clear. Demand is high for app-based tech startups. While
mobile apps have been a major crowd-puller since the debut of the App Store,
2020 became a defining year in digital transformation. Mobile apps often
became the only way people could get things done without leaving their
homes.
Despite the numerous apps that make life infinitely easy and seem to have
covered all the bases, there's still plenty of room for well executed apps that
get things done. While there indeed are apps that can get you everything from
food, clothes, and medicines, there are still areas open to innovation. For
example, better hardware integration that facilitates effective telemedicine consultations, education tools that are more conducive to young students and
non-tech savvy teachers, and many more are just a few examples of how apps
can innovate and provide better solutions.
As long as there are ideas that solve problems with apps, investors will
continue to pour in. Let that be the encouragement you need this year to
launch your own app.
2. Customers Spent $143 Billion in Apps in 2020, Up 20% from the Previous
Year
While naysayers will talk about diminishing returns in apps and the top heavy
revenue curves, app spend continues to grow by fat margins year after year.
The world economy was richer by a whopping $143 billion in 2020, courtesy of
mobile apps alone, and this number is only predicted to go higher in 2021.
Clearly, mobile apps continue to be big business. Done properly, they are
profitable in more ways than one. Aside from direct revenues like in-app
purchases, subscriptions and paid downloads, apps help businesses make
money by increasing customer acquisition, providing better customer service
leading to higher retention and reduced churn as well as by diversifying
revenue channels and expanding to new markets, international ones too.
The world of apps is rife with stories of new and better apps replacing old apps
and making money where there already existed reigning competitors. Despite
apps like Spotify, Pandora, and iTunes, smaller apps like Deezer, TIDAL, and
iHeartRadio continue to make money. Despite Netflix and Amazon Prime,
smaller niche streaming services like MUBI, Twitch, and Viu make sizeable
profits. Those are all in fact, in top 10's of 2020. I could pull up lists of even
smaller apps that made money, but that's another blogpost for another day.
The notion that there's no room for newer, smaller apps is just a myth.
2021 will be the year to let your ideas meet efficient execution. Creative
solutions to world's problems (of which there are MANY) will always have a
place in the world. And with the world on the brink of a digital transformation
supernova, 2021 is the year to really give it your all.
3. The Average User Spent 4.2 Hours a Day Using Apps
After 8 hours of work and 8 hours of sleep, that is half of the 8 remaining hours
in a day. Of the 8 hours a person gets in a day to spend of their own accord,
they're choosing to spend 50% of it in apps!
Mobile time spent in apps surpassed Live TV in 2020.
It's obvious that apps take a large bite out of not only people's time but also
their mindspace. For any message you wish to communicate with people, apps
are clearly the biggest medium at your disposal. From growing a business to
effecting social change, mobile apps are fertile ground. Whether you already
have a business or are hoping to start one this year, app usage statistics clearly
encourage having an app to help you at it.
Not only does this particular statistic show you the importance of apps for
business but also highlights the shifting trends in advertising and branding.
Television ads are a thing of the past. Long winded ads with the luxury of a
captive audience are dead. Skippable ads that need to make a compelling point
within 5 seconds are the only way to go. And that brings us to our next mobile
app industry statistic…
4. Total Mobile Ad Spend Grew 26% to Hit $240 Billion In 2020
In fact, this number will hit $290 billion in 2021. Mobile apps are the sunny
side of the advertising industry in 2021. Clocking 3.5 trillion hours on Android,
mobile is undoubtedly the most engaging channel, higher than TV and print
media. Mobile is the place businesses like to showcase their products and
services. Having an app in this landscape opens doors to interstitial ad
placements like never before, increasing revenue potential manifold.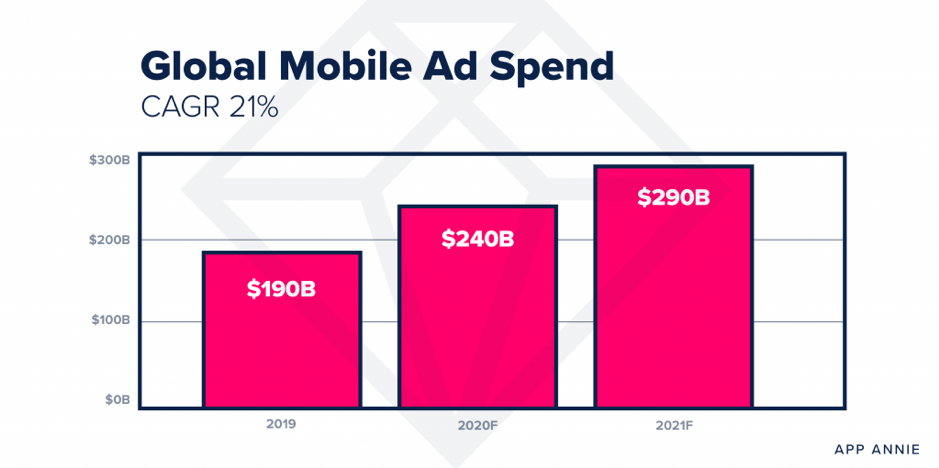 Source: App Annie Intelligence
5. App Discovery Shows Room for Improvement as 37% Users Cited Friends
and Family as Their Main Source for Finding New Apps
One mobile app statistic that is of special importance to app makers and
marketers worldwide is that there is still a major disconnect between apps and
users when it comes to app discovery. There are relatively lesser avenues that
facilitate better discovery of relevant apps by people who could benefit from
that app. App Annie Intelligence reveals that 37% of people surveyed by App
Annie said that the only way they discovered new useful apps was via their
friends and family.
App publishers need to develop better ways to improve the discoverability in
app stores. This could include good app store optimization (ASO), better ad
placements and other app marketing practices.
6. 25% More Publishers Made More Than $2 Million Per Annum on App
Stores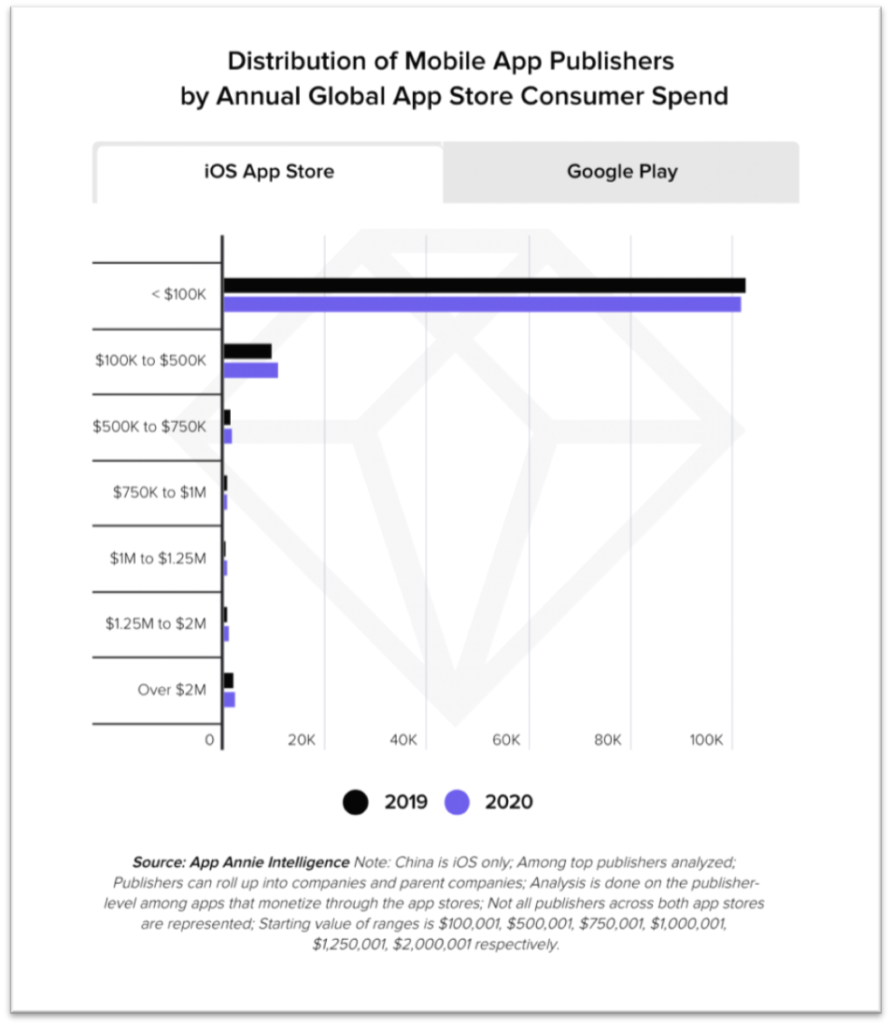 Source: App Annie Intelligence
Now this one's quite straight forward as far as mobile app statistics go. App
makers are making more money. App stores are making more money. App
developers are making more money. It's simply a great time to develop new
apps.
After Apple launched its App Store Small Business Program, reducing fees from
30% to 15%, App Annie reports that over 16,000 iOS app developers made
more than $100,000 per annum.
2,304 iOS app developers made more than $2 million per annum, which is 25%
more than 2019. Paychecks in app economy are getting healthier.
One trend that is enabling this rise in revenues is that many smaller publishers
are rolling up under larger companies, thus increasing revenue share across
the board. For the most part, this is a good thing and many smaller app
developers could use this as a strategy to maximize revenues.
7. Not Just Millennials and Gen Z, Boomers Spent More Time in Apps
If you, like many others, thought that mobile apps are primarily used by the
younger tech-savvy generations, you're is for a surprise. Boomers may have
been slow to adopt the first showings of desktop computers and internet,
they've adapted rather nicely to the medium of smartphones.
In the US, number of boomers using apps increased by 30% YoY as compared
to 16% for Gen Z and 18% for Millennials. Our parents seem to be enjoying
mobile apps more than us.
A study by eMarketer found that nearly 6 in 10 baby boomers are digital
buyers and half of 55-65 year olds surveyed said they've used an ecommerce
app in the past month.
Another research from Security.org discovered that not only do more boomers
use social media everyday but also that 84% boomers feel social media improves their lives.
This is a particularly refreshing tidbit out of this year's mobile app statistics.
This means that app developers need to diversify their offerings as well as
manifest designs that are more inclusive of a wider audience.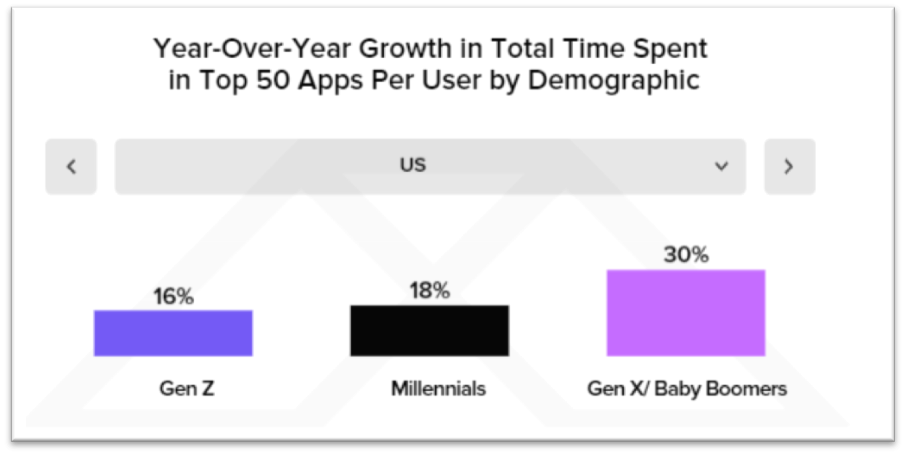 Source: App Annie Intelligence
8. The World Spent 45% More Time in Finance Apps
Banks and fintech startups are set to ride the digital wave as mobile apps are
changing the way people spend and save their money. Mobile apps drove 45%
more engagement in finance in 2020.
Everything from wallet apps, loans and other financial services, investing, peer-
to-peer lending and other financial activities were increasingly performed on
apps.
In fact, participation in the share market grew 55% on mobile.
This is a critical insight for one of the most powerful industries of our world.
Banks and financial institutions need to understand the shifting undercurrents
and move from legacy models to digital transformation if they wish to fruitfully
engage the mobile savvy young customers.
Mobile app developers need to analyze what makes users prefer mobile apps
and leverage that knowledge to develop better, faster and more secure
solutions.
9. Mcommerce Blew Conventions Out Of the Park, Making 2020 the Biggest
Mobile Shopping Year Yet
Research by Merchantsavvy.co.uk reports that mobile ecommerce sales rose
from $1 trillion in 2016 to nearly $3 trillion in 2020. eMarketer predicts that by
2021, mobile ecommerce sales are expected to clock in $3.56 trillion.
To give you a more focused perspective, $115 billion was spent globally in just
11 days during the 11.11 Shopping Festival across Alibaba and several other
shopping platforms, with mobile driving the lion's share of spending.
$53.2 billion was spent on mobile in the US alone between November 1 and
December 9 2020.
App Annie reports that global time spent in shopping apps on Android phones
increased 30% YoY, with this number growing to 45% if you exclude China.
mCommerce is and will continue to remain a powerful industry in the future
and app developers need to find out what makes the customers buy.
10. Food and Drink Delivery App Usage Saw Up To 105% Growth, Opening
New Frontiers in On-Demand Apps
We may have been locked inside our homes all through 2020 but we still
needed to eat. While people across the world collectively became better
cooks, we still needed to order food. As a result, food and drink delivery apps
saw steep increases in number of sessions as well as total spending. App Annie
reveals that the use of food delivery apps doubled in 2020.
Another Marketwatch report corroborates this statistic. It states that the top
four delivery apps in the US, Doordash, UberEats, Grubhub and Postmates,
earned nearly $5.5 billion in combined revenue during the months April
through September, which is twice what they made in the same period in the
previous year.
11. Business Apps Saw 275% Growth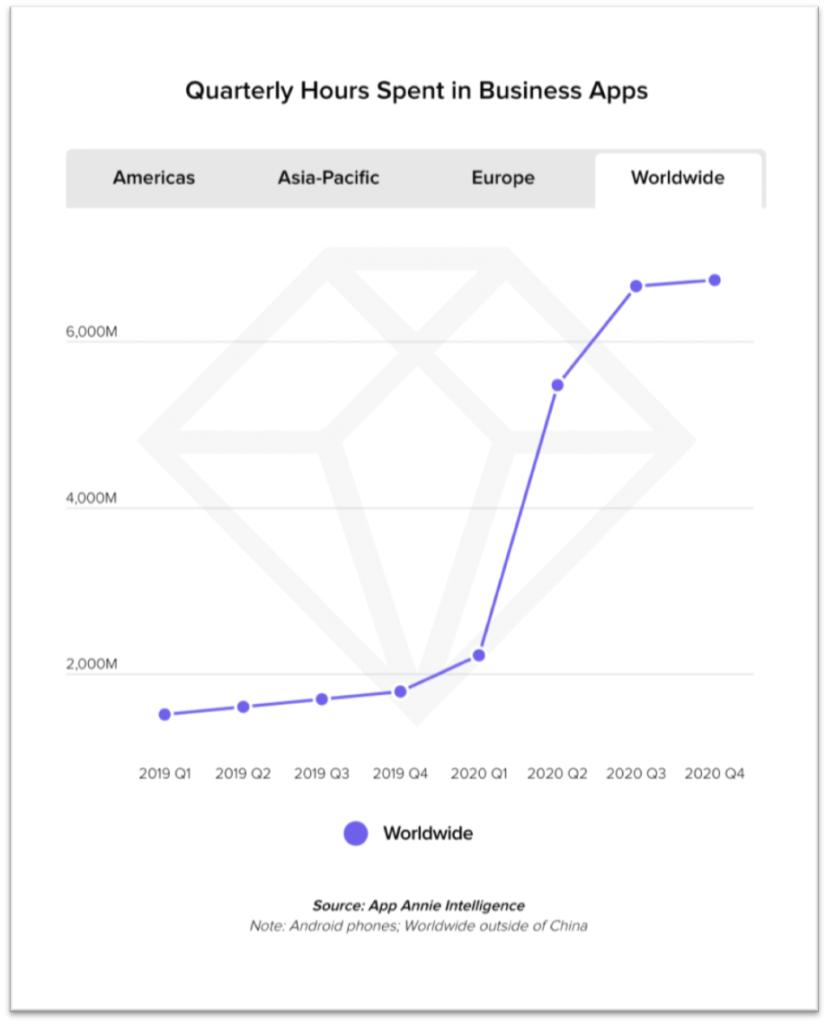 Source: App Annie Intelligence
One class of apps that truly broke all norms and exploded to become one of
the most popular app categories of the year. With millions of people working
from home in 2020, business apps exceeded all milestones, often experiencing
more traffic than they could handle.
Zoom, Google Meet soared in usage and time spent. Aside from these giants,
many other apps that assist work-from-home'ers in different ways saw
increased adoption.
12. Increased Use of Outdoor Exploration Apps Shows That Travel Industry Is
Waiting To Soar
This one doesn't even need surveys and studies to prove. We're all just waiting
to see the end of coronavirus just so we can jump on the next train/flight out
of town. Travel plans came crashing down in 2020 and people resorted to
outdoor exploration apps such as recreation.gov and Geocaching in large
swathes. The travel industry is poised for strong resurgence post-Covid and
2021 will see massive engagement in all things travel, including apps.
13. Nearly 90% of Mobile Internet Time Is Spent In Apps
That's right. All the time people spend bent over their phones, 90% of that
mobile time is spent in apps. With people spending 4 hours a day in apps and
90% of it in apps, you are looking at an extremely engaging medium that your
audience in actively engaging in.
Not only does this particular mobile app statistic tell you the potential of
mobile apps but also shows you just where you need to be marketing your app
– in other apps.
14. MX Player, A Free Streaming App Became India's Top Streaming App
Despite India being one of the biggest consumers of Netflix and Amazon Prime,
the streaming service that topped usage charts in India is the relatively less
known MX Player, and yes, it is free.
App download statistics of MX Player strongly corroborate my theory that
there is always room for new apps no matter how saturated, monopolized or
crowded the market looks.
MX Player presented entertainment options that appealed to the large
sections of suburban Indian population that are wary of paying monthly fees,
and instead chose to stream free in lieu of ad revenue. This strategy worked
and viewing hours on MX player marginally rose above those on Netflix, the
obvious streaming giant.
Creative alternate strategies like these let you stand out in the toughest of
markets.
15. At-Home Fitness Apps Saw 30% Growth Taking Consumer Spend To $2
Billion
Another one of the most popular app categories of 2020 was fitness apps. At-
home workout apps, live coaching sessions, virtual group fitness classes and
many other creative applications that help people get their daily dose of fitness
without leaving the home are going to continue being popular through 2021.
Wrapping Up
Now is that fascinating or what? Every year we talk about mobile app industry
statistics like total app downloads, total hours in app usage and top apps
downloaded. Mobile app statistics for 2021 are different. They reveal new
trends that will shape the future of app development in exciting new ways.
2021 is the year to pull out all stops and let those ideas flow. If you've got a
solution that can make a few lives better, we strongly encourage you to take
the plunge into app development.
*Any uncredited statistics are from App Annie State of Mobile 2021 Report.
Ready to launch your app in 2021?
Set up a free consultation with our industry expert developers to discuss your
idea and plan a perfect strategy.