This may seem like a no-brainer but app discoverability is crucial. There really are people who are actively search for apps every day. If you know how to be in the right place at the right time, you can hit a jackpot with the active app hunters waiting for your latest app offering.
Don't believe me? I have numbers!
A staggering 12% of daily active users (DAU) search Google Play looking for apps every single day. Another 50% DAU search for apps every week and Google Play witnesses a whopping six million unique keyword searches a month. You just need to make sure these searchers find you.
"For the average app, search actually makes up the vast majority of installs," says Ankit Jain, Head of Search and Discovery, Google Play.
The trick is to nail your app store optimization (ASO) and make sure you deploy the very best ASO practices that win the algorithms and get your app ranking high up in Google Play. Now, things may be a tad confusing and also a little counter-intuitive for people who are just getting started with Google Play Store optimization. Google is as strict with App Store Optimization as it is with its search engine optimization. But there are some fail-proof strategies to boost your app's rankings. Everything right from your app's name, title, description and screenshots can be optimized to perfection.
In this post, we bring to you the complete anthology of the very best ASO practices that will help you perfect your app's listing on Google Play Store, but before that let's take a closer look at the Google Play Store rank algorithm.
About Google Play Store Rank Algorithm
The Google Play Store, previously known as Android Market, started its journey with a mere 16,000 apps when it was launched in December 2009. It has come as long way in the past six years. As of September 2017, there are over 3.3 million apps available and still counting.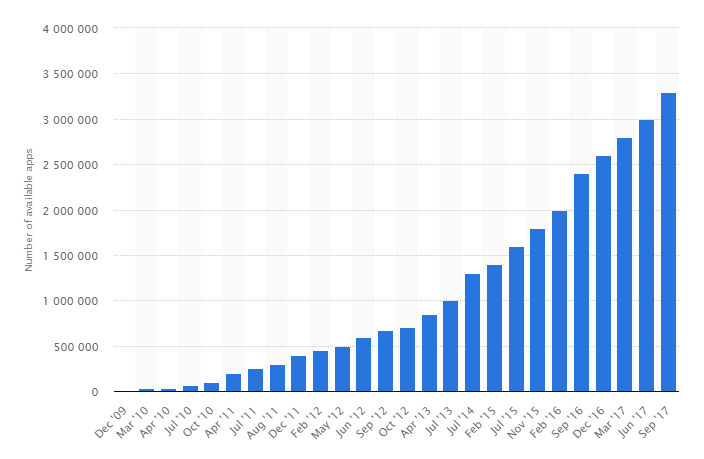 When it comes to app store optimization (ASO), there are no agreed-upon terms. No one knows how the Google Play Store rank algorithm works, but breaking down its various components can help you understand the app store optimization better.
The following are the main criteria when it comes to ASO:
• App's rating
• Number of ratings and reviews
• Number of downloads
• Growth in downloads over the past 30 days
• Frequency of app usage
• Number of app uninstalled
• App's keyword density
• Number of backlinks within the app
• Social mentions
Some of these criteria are applicable to both the Play Store and the App Store. But when it comes to app store optimization for Android apps, there are some subtle differences. The following are some ways to improve your app's ranking on the Google Play Store.
1. Keyword Research for the Win
This is the first step to your app store optimization. Conduct a proper keyword research using the right search rankings tools. This is the most crucial part of your keyword optimization process and your chances of ranking higher on Google Play Store largely depend on this step. Also, you need to conduct keyword research from time to time in order to track your app's performance on the app store for all of its keywords.
There are three core metrics for choosing the right keyword: Relevance, Difficulty, and Traffic – in short, R.D.T. Just like your SEO efforts on your website, your app's targeted keywords must be highly relevant. This will dramatically increase the likelihood of the app being downloaded by people searching for those keywords. For example, if you have a video and music player app for Android devices, using the term "media player" as a keyword will make it easier for people identify the purpose of the app and likewise increase its chances of being downloaded by potential users.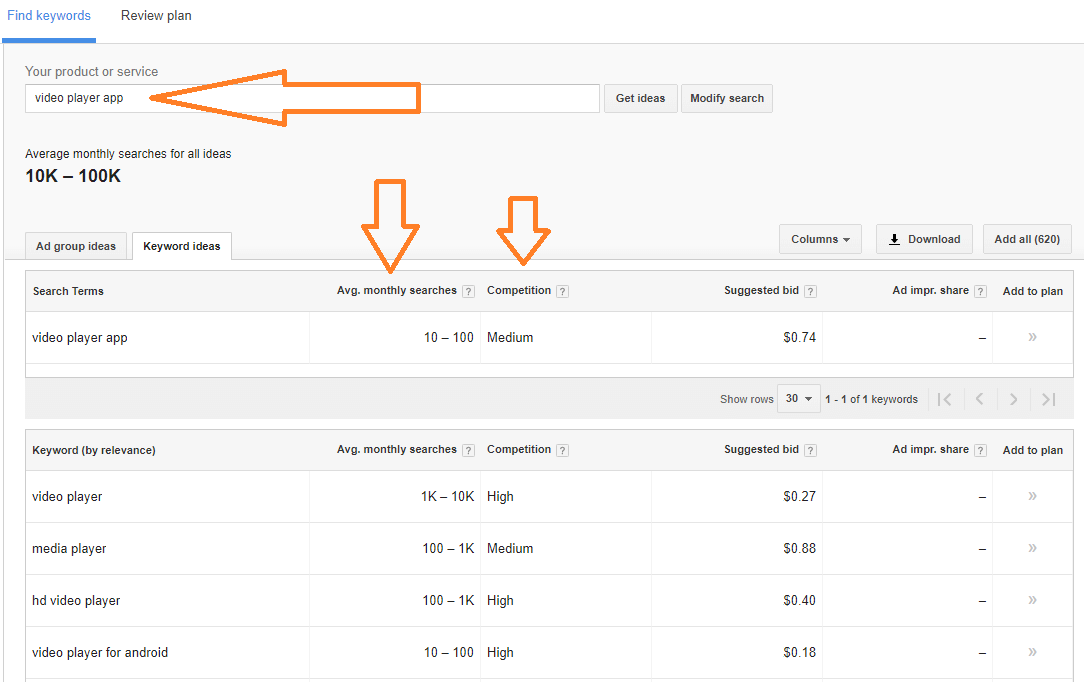 Next, look for keywords with lower Difficulty Scores. This is the same thing we do for SEO; we target for keywords that are highly relevant but less competitive. Similarly, when it comes to your mobile app marketing, using keywords with lower Difficulty Scores improves your chance of being better ranked in the Google Play Store.
What's the use of a highly relevant, less competitive keyword that cannot drive traffic? So your last metric is to find keywords that have higher Traffic Scores so that maximum people get to know about your app.
Pro Tip: Using the right keyword research tools is pivotal to finding the most effective keywords. Use Google Keyword Planner or Google Trends to start off on the right foot. AppTweak is another very helpful tool to use.
2. Nail the Naming Conventions
When you are naming your Android app, there are a certain guidelines you have to follow. For example, you cannot use "Android" in the name of the application.
Here's a naming convention given by Android developers:

Similarly, you cannot use popular app names in your app's name as well. For instance, you cannot use names like Twitter, LinkedIn or YouTube in the app. Also, your app should not have a name that is confusingly similar to existing apps or features supplied with the mobile device such as Gallery, Messaging or Camera etc.
If you follow these guidelines, it is pretty simple to name your app for the Google Play Store. The name must be something catchy and easy to remember as it is your first chance to impress your potential users. The name must also have some similarities to your app's logo.
Pro Tip: If you have stumbled upon a fantastic name well before your app is ready for launch, consider trademarking it so that no one else can use that name before you, while you were busy building the app.
3. Use Keywords in App's Title
Similar to Apple App Store search guides, you must put your main keywords in the title of your Google Play Store app. This will increase your Android app's chances to rank better for those targeted keywords. According to MobileDevHQ, app titles that have keywords in them have 10.3% higher ranking than those that don't.

However, choose your keywords wisely as Google allows you to add just 30 characters in the title field. This means, you can add only one or two highly targeted keywords in the app's title. Use Google AdWords Traffic Estimator to find and prioritize relevant keywords for your app and add the top ones in the title. Do not ever stuff keywords though, that is as much a sin in ASO as in SEO.
Pro Tip: Placing your keywords in the first half of the app name increases your chances of ranking high. In case the app name is long and gets truncated in the listing, your keyword will still be visible, increasing your chances.
4. Searchable Description
As mentioned, there are several differences between the Google App Store and the Apple App Store search optimization. However, the biggest difference lies in the description. While iTunes provides a keyword field, you need to add the keywords in your app description for Google App Store.
You need to strategically add your keywords within the app description to improve its searchability. If you are familiar with online marketing and SEO, this won't be a problem at all. All you need to do is find relevant search terms for your app and use them in your description.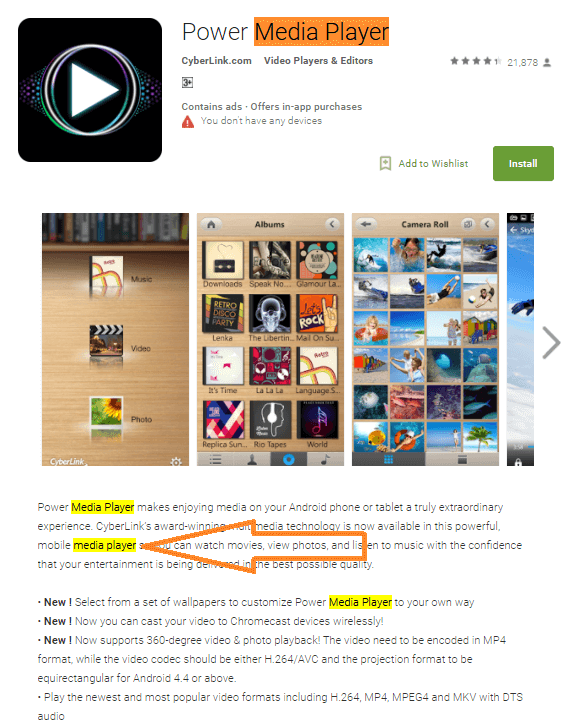 The trick is to use as many relevant keywords as possible but make sure they are not repetitive. And given the fact that Google allows you add a maximum of 4,000 characters in the description field, you will have ample opportunities to add them. However, don't just stuff your keywords in the description as it will be considered as spamming by the search giant. Besides, adding a bunch of meaningless keywords won't help your purpose either. The best practice is to include your target keyword for about 5 times within the description and no more.
But remember your description must make sense; people need to understand the usability of your app and your description is the best tool to do it. You can peruse the content guidelines Google so generously shares with developers.
Pro Tip: If you've managed to get some good press for your app early on, or a great testimonial from your beta group, be sure to include that in your description. Alternatively you can include such details as you update the app.
5. Leverage Promo Video
Google Play Store was first to allow mobile app developers to add a YouTube video to their app's description, followed by Apple App Store. If a picture is worth a thousand words, a video is worth a million. So there is no way you can miss such an opportunity to get your potential users excited about your app.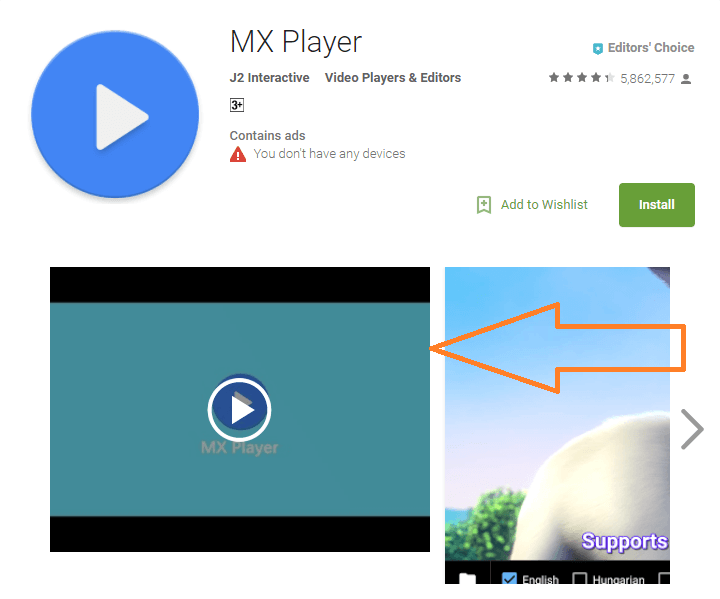 There are some best practices you need to follow when using video for mobile app marketing. For example, it is good idea to use a promo video to introduce yourself as well as your app, its features and functionalities. Keep the video short and simple; no one is interested in watching a 10-15 minutes long video prior to downloading a new app. Remember these are teaser videos and their goal is to pique your users' interest in downloading and using the app. Keep the duration close to around 1-3 minutes at the max.
If done right, they can actually raise the excitement around your app. In fact, a promo video is a great marketing tool when you are launching your app. Uploading it to YouTube and adding the same to your app profile is also very simple as Google owns YouTube.
6. Launch in the Right Category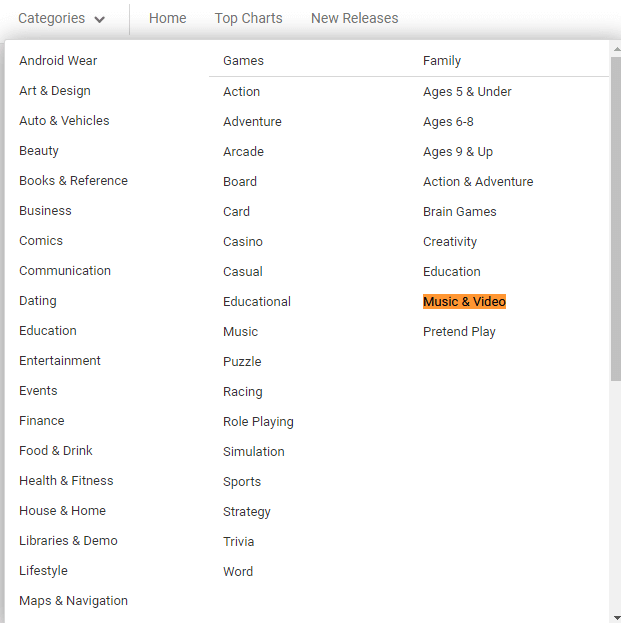 Choosing the right category to place your app in is crucial to getting your app discovered and downloaded by as many people as possible. In a time when more than 1300 apps get added to app stores a day, getting your app discovered is like trying to find a needle in a haystack. There has to be a better way to make your app visible to a larger audience. Categories, if used well, can certainly be helpful here. Make sure you place your app in the right category where users are likely to go look for it. Coupled with other factors such as the right keywords and description, chances are high that your app could show up fairly high in the right category, which will undoubtedly boost your downloads and subsequent engagement and revenue.
Pro Tip: See if your app fits another category better that the one you initially planned to launch it in. statistically speaking, gaming and social are the two categories that are the most downloaded. Maybe your education app can be promoted as a 'social education network'? Don't hesitate to innovate.
7. Screenshots
Admit it – the first thing you notice about an app listing in the app store is the screenshots of it, right? We all do. A picture is worth a thousand words and in regards to app store listings, a good screenshot could be worth a thousand downloads. Before downloading and actually using your app, a screenshot is the user's window to what they can look forward to in your app. Interesting screenshots assure them that there will be an interesting app.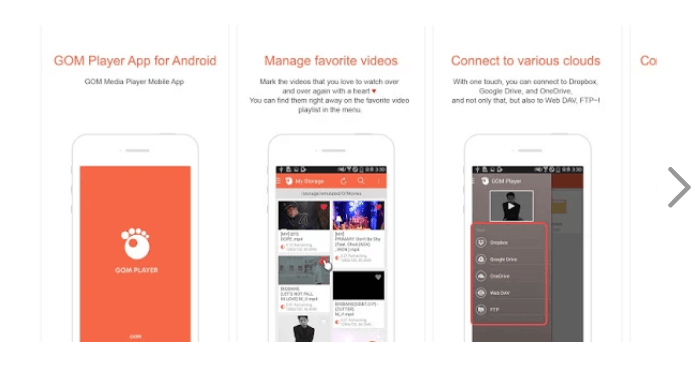 Follow app store guidelines and submit the right screenshots. Apple wants you to submit 5.5 inch screen assets and they will resize it to suit device needs accordingly. Google Play Store requires that you submit separate screenshots for smartphone, tablet and wearable, if your app is for all these. The screenshot must be in JPEG or 24-bit PNG, with a dimension between 320px and 3840px. Submit a minimum of 2 screenshots.
Clearly, screenshots are a powerful weapon and you must exploit their potential to the fullest. Capture the most attractive screenshots that reveal just enough to pique the user's interest and conceal just enough to make them want to download immediately to find out more. Do not take mundane screenshots that show random visual but incredibly fascinating screenshots that make the user go – "I wonder what that is but it looks like so much fun, lemme try it out."
Pro Tip: Make your screenshots meaningful. They don't have to be just random images, you can use them to describe key functionalities of your app, or tell a story. For instance, you can have a series of screenshots depicting different stages of the app, or show off the key features.
8. Drive Engagement in Reviews
If a user has taken the trouble to leave a review for your app, that gesture needs to be acknowledged. Developers must make it a high priority to respond to every single review, as promptly as possible. If it is appreciation, thank the reviewer wholeheartedly for their kind words, if it's criticism, acknowledge it, assure them of improvement and use the criticism positively.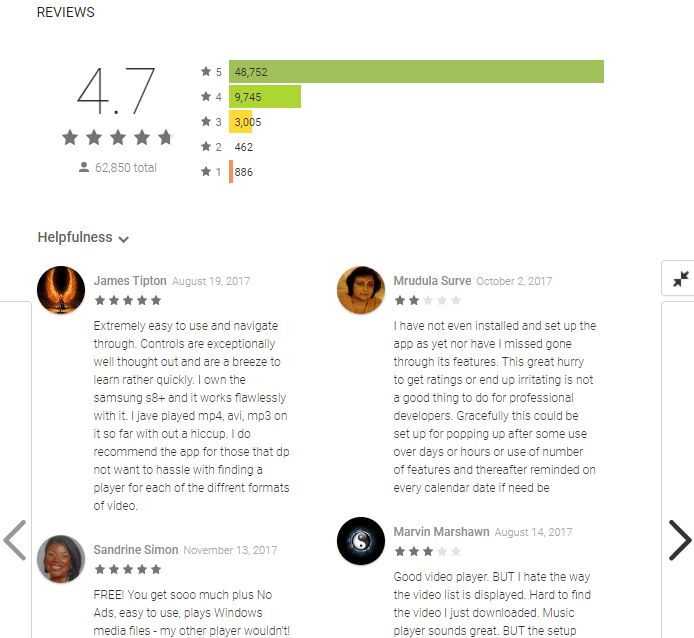 Responding to reviews and using the responses as a tool to further boost engagement and build trust is an art. Every response you type must be aimed at not just answering the individual reviewer but to anyone browsing through your app listing wondering whether it is worth a download. A review response is actually an incredible opportunity to talk about your app, clarify things and offer details that you couldn't fit into the description. Apple does a great job of explaining how to do that right here.
Always be polite and assuring. No matter what a negative reviewer says, do not get defensive or counter-react. Remember that you are talking on behalf of your company, so maintain a responsible composure. Assure the reviewer that you will solve the problem and improve the experience.
Pro Tip: Do not leave a negative review lingering for too long without an appropriate response. Otherwise, it will only attract more negative reviews and present you as a company that doesn't care. Be as prompt as possible at responding to negative reviews, assuring resolution and if applicable, offering apology.
Read also:Developers Can Finally Respond to App Store Reviews – Here's the Best Response Strategy
9. Research Your Competition Thoroughly
Researching your competition might well be one of the most effective forms of market research you can do for your app. To make sure your app listing successfully rises above the competition and gets noticed, a good strategy is to learn from the best. Take a close look at other apps in your category that are ranking well and garnering heavy downloads. Observe what they are doing right and emulate their success to watch your app rise to the top as well.
Market reach of the most popular mobile app categories in the United States as of July 2017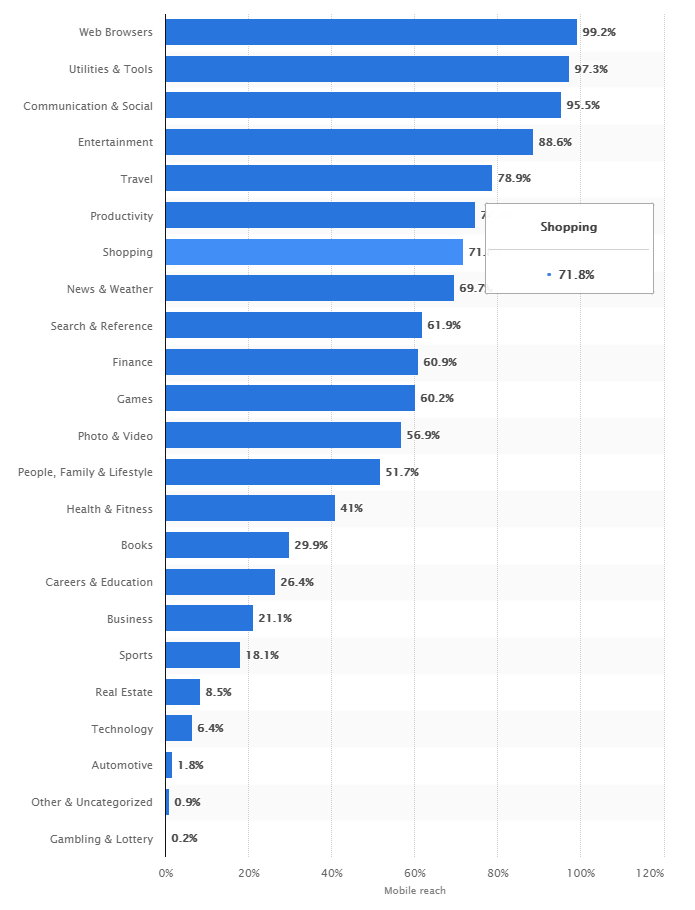 To begin with, you can browse through app details, reviews and download volumes right on the app stores for free. This will give you a good idea of what features of the app are being liked by the users and what is left to be desired. You can see the features and phrases that are a hit with the users and incorporate those phrases in your marketing to attract the right kind of attention. If you come across problems that users complain about on other apps, you can fix those in your app and highlight them in your marketing as well, to appeal to users.
Once you have utilized these free resources to their full potential, there are some paid tools that can help you scout your competition for more insights. You can use Review Analysis to search for specific keywords in a sea of reviews. For instance, you can search for words like 'problem' or 'trouble' to find out what users are having problems with, or search for keywords like 'best' and 'love' to see what is winning users over. The idea is to gather intel on the top strategies your competitors are using and use that information to boost your rankings.
Pro Tip: Getting high quality backlinks is a winning strategy. If even one good website can cover your app, your traffic can go through the roof. You can also use websites like Open Site Explorer to see where most of your competitors' backlinks are coming from and you too can exploit those sources to get backlinks.
10. Get a Brilliant Icon
You are already aware that having a really appealing and intriguing icon is pivotal to your app's success. Let's talk about how you can choose the right icon that will help you rise above the crowd.
First of all, you have a pretty small area to play with, so make the most of it. Don't try to squeeze your app's name in the icon. You have a clearly demarcated app name field for that. Instead, make your icon a distinct image that affixes itself in the user's memory. To do this, identify one concept you want your app to be identified with and design with that in mind. Do not try to cram too many ideas into one icon.
Another important point to remember is to keep your icon consistent with your app in terms of symbology and color palette. Users should be able to relate the two and use one to remember the other. If you have a group of apps that are interrelated, keep the icons consistent, like the Facebook icon and the Facebook Messenger icon.
Pro Tip: People at Android have taken the trouble to create extremely detailed and nuanced icon design guidelines to help you design the perfect icons for their platforms so use that information to your advantage, and remember to stay creative.
11. Set the Right Price

In the end, we are all in this to make some money, right? So the right monetization strategy is essential, and it can be one of the trickiest parts of this entire operation. You need to pick a price point that will bring you enough profit, yet not a price that will just about turn off potential buyers.
Carefully analyze your production cost and estimate how many downloads you will need to recover that cost and in what time frame.
Pro Tip: Launching a free version of your app and then charging a price for premium features is a strategy that works well to ease users in. Another strategy that works is to set a slightly higher markup price and offer an early bird discount to encourage downloads.
12. Monitor and Evolve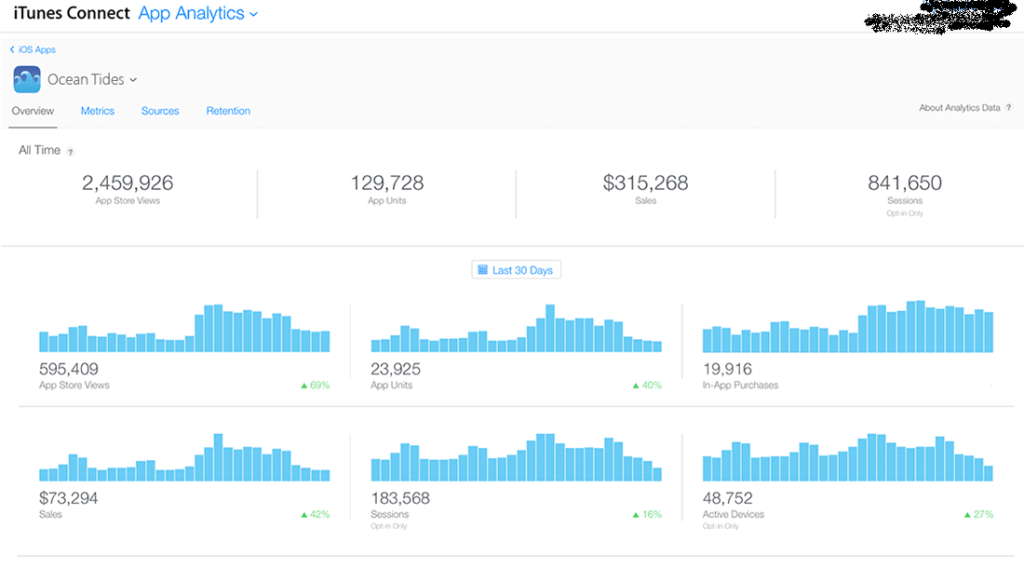 App store optimization and post launch marketing never sleeps. You cannot implement a strategy at launch and expect it to deliver results for the rest of the app lifetime. You need to continually monitor your progress, keep a tab on your average daily and monthly downloads, and remain active on app store reviews and forums. Release regular updates, respond to reviews, fix bugs and make your users feel that you are here for them. That is the only way to stay relevant and remain on top consistently.
Pro Tip: Retention rates are more valuable than download rates. Acknowledge, thank and reward your long time users and re-engage those who are dormant or have uninstalled your app.
Conclusion
Getting your app a higher ranking on the Google Play Store is easier said than done. While some of the approaches are similar to SEO, it still takes a lot of time and effort to gradually improve your ranking. So do not be disheartened and discouraged if you fail in your first approach. The secret is to identify your mistakes early and keep improving them until it turns out as per your expectation.