Just as your business's physical premises need to be easily accessible to individuals with disabilities (such as wheelchair accessibility), the same people should likewise be able to navigate your business website without facing any disability-related biases.
That's what web accessibility is all about — an accessible website is one that accommodates all users on all devices irrespective of the physical or mental ability of the user. And prioritizing accessibility is not optional anymore, it is mandated by the Americans with Disabilities Act (ADA).
That's because more than a quarter of adults (one in four) in the United States lives with a disability. Also, the 2017 National Health Interview Survey (NHIS) revealed that an estimated 10% of all adult Americans report having trouble seeing, even when wearing glasses or prescription lenses, or that they are unable to see at all.
So, this huge chunk of the population can't simply be overlooked as things go online. Failing to make your website accessible leaves you open to costly ADA claims by advocacy groups. Seeing that 2018 marked a 181% increase in Federal ADA lawsuits over 2017, and this trend is only going upward, it's better to be safe than sorry.
To help you know where you currently stand when it comes to ADA accessibility compliance, here are the top four tools to audit and test your website for accessibility compliance issues without paying a penny.
WAVE: Website Accessibility Evaluation Tool
By far one of the most well-known web accessibility testing tools that's comprehensive, community-built, and free-to-use is the WAVE suite. It was originally developed by WebAIM (Web Accessibility In Mind) at Utah State University, aimed at helping authors make their web content more accessible to individuals with disabilities.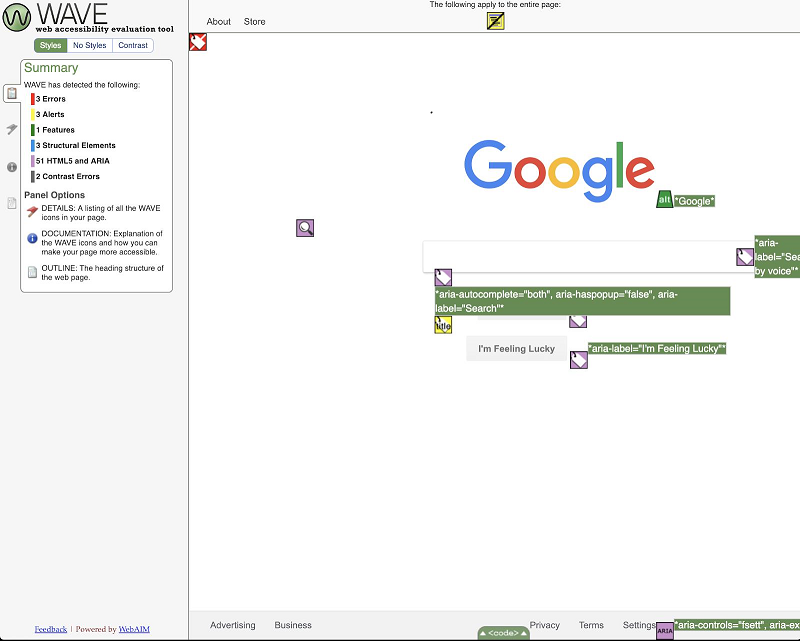 Just enter your website URL and it will detect various accessibility issues in accordance with the latest Web Content Accessibility Guidelines (WCAG) published by the W3C. Their philosophy is to "focus on issues that we know impact end-users, facilitate human evaluation, and to educate about web accessibility."
What's more, this free tool is also available as a browser extension so you can effortlessly run it on the page you are browsing — thus being a top recommendation for anyone looking to get started with accessibility.
Pa11y
Another great range of free and open-source tools aimed at making the web more accessible for everyone is Pa11y. Basically, it is a command-line interface that loads web pages and points out any accessibility issues it detects. The Dashboard version of Pa11y automatically tests web pages for accessibility issues on a daily basis. It can also create accessibility reports for groups of web pages or sites, even password protected or restricted pages.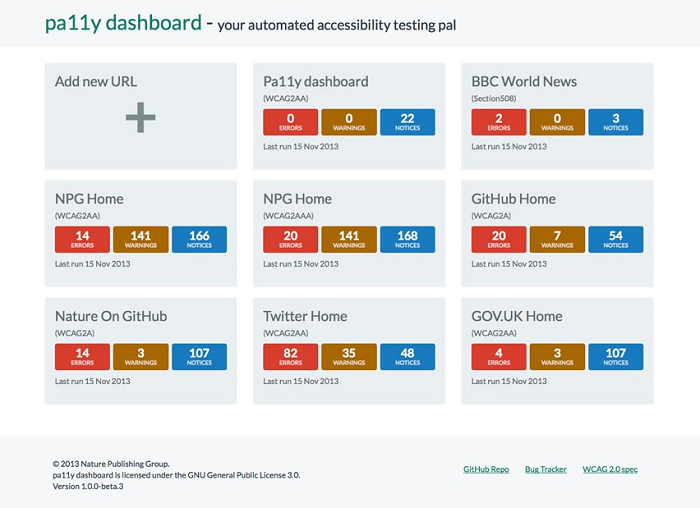 Perhaps the easiest way for you as a layman to use this tool would be to download their desktop application known as Koa11y. If you're not a developer and just need a simple way to use Pa11y from your desktop computer without having to worry about source code and setup, then this is the way for you.
Color Oracle
Oracle is a free color auditing tool that replicates different forms of color blindness by appending a full-screen filter throughout your operating system. Filter options can be set to more severe kinds of color blindness: deuteranopia, protanopia, and tritanopia. It works with all major operating systems such as Windows, Mac, and Linux.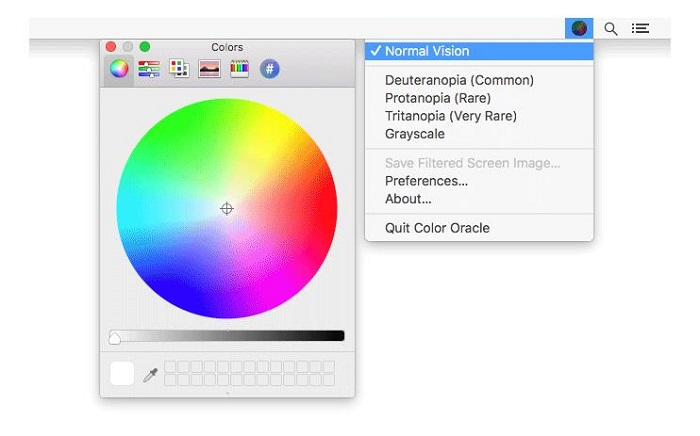 If your website passes with these filters, then rest assured it will also be comfortably readable by those with minor color blindness. As you can turn these filters on while working on routine tasks, this is the ideal tool for visual designers who want to assess their designs on the fly.
A great related online tool that deserves a mention is a11y. It checks the color contrast of your site as per WCAG 2.1 Guidelines.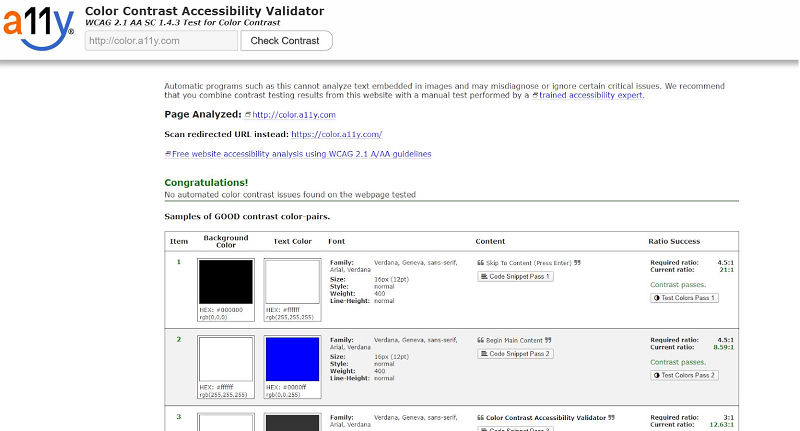 The contrast between the text, its background, and various other elements (such as call-to-action buttons and hyperlinks) is a concern for colorblind and visually impaired users. So, it is important to ensure your site has sufficient color contrast.
SortSite
Used by federal agencies and private and public corporations for web accessibility audits, SortSite is a full-fledged site evaluation tool that tests not just for accessibility, but also broken links, HTML and CSS standards, search engine optimization, and cross-browser compatibility.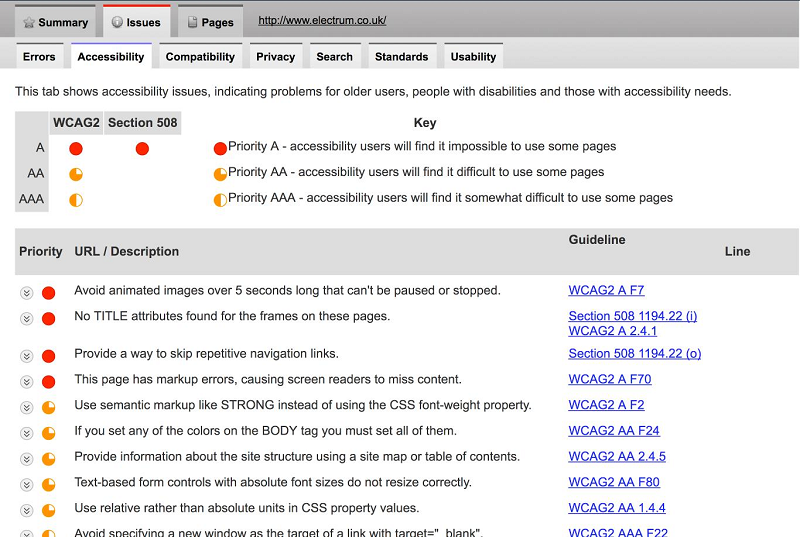 The generated report shows all the errors and warnings and prioritizes them according to the level of impact. The highest priority implies that users will find these pages impossible to use, while some pages can be "somewhat difficult." The report carries direct links to the WCAG which you can then easily pass on to developers and designers, so they can follow the guidelines to make necessary corrections.
The audit tool will test for all three WCAG 2.1 levels (A, AA, AAA), along with Section 508 of the Rehabilitation Act of 1973. However, unlike the tools discussed until now, SortSite is limited to an accessibility scan of 10 pages at a time, unless you purchase a subscription or download the desktop version which has a 30-day free trial. The trial period might be enough for completing your site's accessibility audit and revamp, but if needed, purchasing a subscription would be worth it too.
Conclusion
2020 is here and it's high time for you to see to it that your website is accessible to everyone. Start with the basics — adding alt text to all the visuals, switching to the right fonts, and checking color contrast and keyboard-friendliness. Then, create and publish an accessibility statement declaring your business's target level of accessibility.
A more accessible website will not only guard your business against costly ADA web accessibility lawsuits, but it will improve the user experience (UX) and expand your potential client base, resulting in boosted sales.