A survey by RTi research found that 33% of consumers ordered groceries online for the first time, while in quarantine. 54% of these 33% expressed that they are likely to continue this post the quarantine as well. Simply put, these numbers point at a fundamental change in consumer behavior where eCommerce and m-commerce will see an increase in adoption across segments.
This could mean a golden opportunity for online retailers. It could also, however, mean testing times, as increased demand is quickly leading to stock outages and canceling of delivery slots.
But then, Amazon has invested upwards of $350 million in increased compensation for its workers for their extra efforts at this time. Other companies have followed suit. Some verticals like groceries and personal care have seen increased demand while others like travel and recreation products have been taken off of shelves.
So where is the eCommerce industry headed? With billions of people in quarantine across the world, everything from groceries to medical supplies and even cash is being ordered online and doorstep delivered. The eCommerce industry, while seeing unprecedented business growth, is also being tested to its limits. The steep surge in demand presents an opportunity, but also exposes potential shortcomings.
As people reassess their lifestyle and priorities post this crisis, will this be the new normal for eCommerce?

If yes, is eCommerce capable of handling demand at this scale?

How will eCommerce companies redesign their strategy to become the new normal for a transformed world?
Those are some of the questions we will answer in this exclusive analysis of the impact of COVID 19 on online shopping.
First for the Good News
Deeming anything as good news in the current state of crisis feels underwhelming. However, for e-retailers, this might have been a bigger push than all their other digitization campaigns put together. People restricted to their homes are increasingly resorting to mobile apps and websites to order essential services online. Even in areas that aren't strictly under government instructed lockdowns, more and more people try to prevent interacting with the outside world and instead, have their daily needs delivered to their doorstep.
According to RBC Capital Markets' fifth annual user survey conducted last month, more than half of the 1500 surveyed users said that COVID-19 has permanently boosted their willingness to buy groceries online.
So has online shopping increased. Yes and no. While some categories have seen a steep increase in demand, others have fallen flat. Here's a chart from Visual Capitalist that will give you a fair idea of what we are talking about.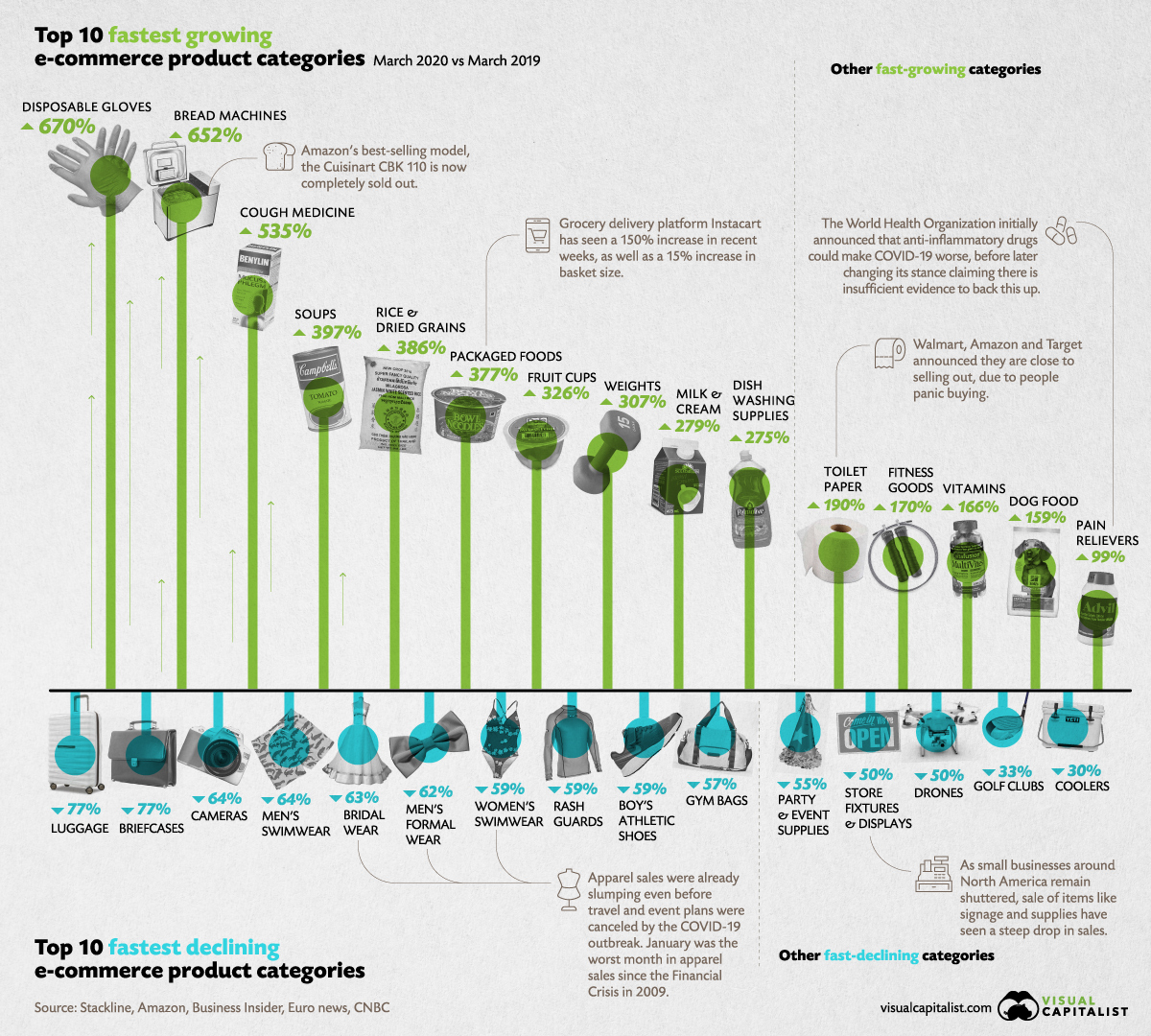 Image Courtesy: Visual Capitalist
As you can see, products that people need to stay safe during the COVID 19 crisis such as sanitizers and protective gear have surged as well as essential commodities such as food, medicines and personal care have seen heightened demand. Cleaning supplies have seen a sharp increase too.
Of course, on the other hand, travel and recreational goods like luggage, cameras, swimwear and sports equipment aren't seeing enough takers as all travel plans are deferred for now. This industry would be hoping for a lifesaving revival once this crisis is over and life goes back to normal.
Despite the massive boom the e-commerce sector has been seeing through the last decade, groceries and daily needs have still been bought from supermarkets and convenience stores for more than websites and mobile apps. COVID 19 has succeeded at making consumers see the benefit for buying their groceries online. So it is safe to say that online grocery shopping is in overdrive right now and if even half of these consumers continue to buy online post the crisis, the numbers will look really good for online sellers.
If online retailers can really rise up to the occasion and meet the heightened demand at a challenging time like this, they could be looking at a potential goldmine of loyal customers. Now is a stressful time for the general customers. They are confused, overwhelmed and trapped at home. Eating out is impossible. Socializing and meeting friends is out of the question. For many people, this phase also means paycuts and general disappointment. At a time like this, if online sellers can help keep the customer's family fed and clean, without awful delays, these customers could adopt online shopping as the new normal. That brings us to our next point.
Is eCommerce capable of handling demand at this scale?
Sure each one of us 'tried' to buy essential products online. But did we all succeed? I for one can't find a delivery slot for another two weeks. With top ecommerce players like Amazon, Instacart, Ocado from UK and Big Basket from India showing signs of buckling under pressure, questions arise about the capability if ecommerce at meeting such unprecedented demands.
Amazon isn't accepting new grocery orders until it can fulfil current ones.
Customers are staying up all night to get delivery slots on Instacart and Fresh Direct.
Ocado is requesting shoppers to order early because of exceptionally high demand.
Developers are creating new programs to help find delivery slots.
Even as Amazon and others suspend all other 'non-essential' orders and focus solely on essentials like groceries, which in fact only accounted for 6.3% of the total eCommerce sales in 2019, customers struggle to get their orders fulfilled. Order limits are in place to prevent hoarding. Extra workforce has been hired to expedite delivery. Despite all the efforts, the demand is simply too high to be met.
Sure, ecommerce companies are dealing with an entirely unexpected challenge and facing atrocities like sealed borders and affected supply. So you could give them the benefit of doubt. Indeed they are trying their level best and the problems must only be temporary. For now though, it sure looks like a serious upscaling of infrastructure is required to meet demands at this scale.
So what can eCommerce companies do?
If anything, a crisis is a massive learning opportunity. Ecommerce companies can do a whole lot of re-strategizing to prepare for a world where online shopping is the new normal.
Some basic problems and shortcomings are being exposed as this crisis unfolds.
As one would have it, most of the online grocery shoppers aren't tech savvy experts, a lot of them even being first time users. They end up spending a long time choosing products and adding to cart, by the time they get to completing the order and checking out half their cart has disappeared or they simply don't have a delivery slot. If there isn't a delivery slot, the app must inform them of that based on their zip code, before they spend 30 minutes putting the cart together.
Systems should be put together for residents of the same area to order together, minimizing trips and facilitating more customers.
The biggest asset ecommerce companies have in satisfying their customers is a truly usable mobile app. Companies must focus now more than ever on improving their user experience. Helping the customers find the right essential products instead of just promoting high margin products, creating systems to help shop quickly, personalizing the experience, creating a more reassuring app and providing plenty of in-app chat support and customer service will be the most important steps in minimizing customer anxiety and alleviating the overworked, strained employees.