In your hand, you're holding a device more powerful than the computer that put the first man on moon! When phones are so powerful, who even needs lite apps? Smartphones today sport massive power. Up to 256 GB of internal memory, expandable up to 1TB, 4 to 6 GB of RAM, 120 Hz refresh rate, 6-core processors, 16-core neural engines, and so much more. With that much power, your smartphone could take you to the moon and back, a couple of times!

What are lite apps?
Lite apps are a play of words on 'Light' versions of mobile apps. Basically these are mobile apps scaled down to a bare minimum of features and visuals, allowing the app to run comfortably on slower internet connections or low-end smartphones with less inbuilt power.
Lite apps allow users to run the app and be able to accomplish the core function of the app, like buying a product, sending a message or reading information. By eliminating additional features and aesthetics, the user can still fulfil their need by sacrificing some of the added experience.
In short, without many bells and whistles, lite apps get the job done. They may not look fantabulastic or charm you with their sleek animations and rich colors, but they do what you need them to do within the minimum resources.
Facebook Lite, Twitter Lite, YouTube Go, Skype Lite, Kindle Lite, UC Mini Browser, and even Android Go are some of the most popular lite apps out there and make no mistake, they have all proven extremely useful at certain moments in everyone's lives.
The need for Lite Apps
Mobile applications or apps are today somewhat of a quickfix to all human needs. From business to pleasure, and from health to wealth, there's an app for everything. With the app ecosystem growing larger and more competitive by the hour, the run to capture users' attention is fierce.
And this competition is something of a two-faced challenge. At the one hand, mobile app developers need to make the apps richer in terms of features and aesthetics. On the other hand, the apps need to be lightweight, and fast.
Striking the balance between the two is deviously hard. A rich immersive experience with high-definition graphics, interactive features and moving visuals is bound to be heavy. This, while being pleasurable to use, can slow down mobile apps and make them heavy – heavy in terms of storage space as well as data consumption. This can dissuade users from keeping your app on their phone. This is where lite apps step in to save the day!
When might you need a lite app?
There are actually several occasions that mandate the need for lite apps.
If you live in a country with limited data speeds, unreliable internet connectivity, or crunched bandwidth, you need lite apps to get things done.
When you're travelling to exotic locations that are high on adventure but low on network coverage, or places that are almost off-the-grid, lite apps can help you keep basic communication alive.
If you lose/crash/or/drop-in-the-toilet your phone, you might need to survive on an old or borrowed phone for some time before you can buy a new one.
If you believe in spending your hard-earned money on truly valuable things and not on a new phone every year, lite apps can help you keep your old phone useful even with less power and storage.
If your ISP is still placing data caps and charging you premium prices for going over the limit, you need to balance out by having lite versions of certain mobile apps.
Examples galore but you get the gist. Lite apps are a great way to continue enjoying your favorite app services when you are limited by hardware specs, data speeds, connectivity, or network coverage.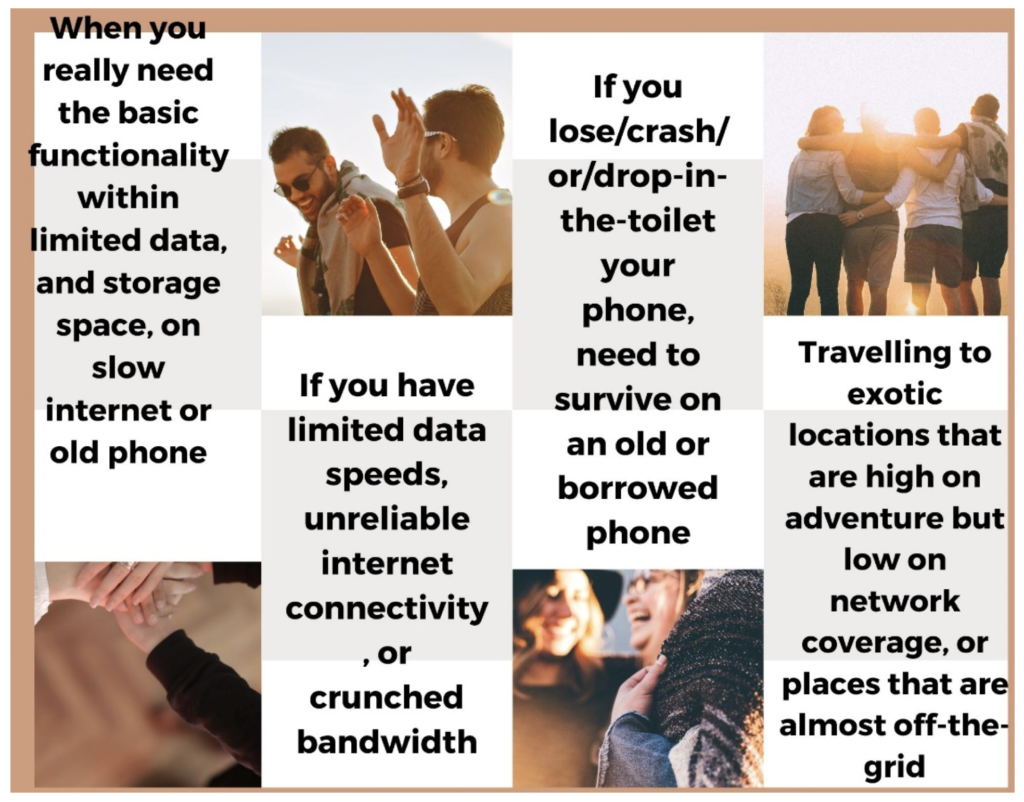 Should you build a lite app?
So the pertinent question is, should mobile app developers still build lite apps? Considering the fact that most of North America and Europe have excellent connectivity and high smartphone penetration, app developers have reason to believe that rich apps are the way to go. No one here wants to use a washed out version of an app.
However, mobile app developers would benefit from understanding the size of lite apps consumer base. According to World population Review 2022:
• 124 countries in the world have lower than 50 MBPS average mobile data download speed.
• These countries comprise a total population of 5,009,113.
• In comparison, only 53 countries have higher than 50 MBPS of mobile internet speed, comprising a population of 2,769,903.
Clearly, number of people in the world with lower internet speeds is nearly twice that of the higher strata. If you wish to have your app reach out to these consumers, a lite app would help you find your footing.
Advantages of lite apps
Lite apps offer a number of key advantages. For users sometimes, lite apps can mean the difference between being stranded with nothing and having at least the basic connectivity.
Let's take a look at some of the biggest advantages of lite apps
Lite apps work on slow mobile internet, poor connectivity
As discussed earlier, there are more people in the world with slow mobile internet than there are fast. With over 5 million people in the world with less than 50 MBPS download speed, this is market that needs lite apps. They need apps that get the job done, even if they're a tad low on rich features.
Lite apps cut back on high definition photos, microanimations, and other details that consume copious amounts of data. Instead, they use quick loading, image splicing, and low – definition visuals to make the app lighter and easier to use on slow connections.
Lite Apps run faster, take up less space
Apps often become bloated with too many features and end up occupying too much space on a user's phone. These apps slow down not just the app itself but the user's phone as a whole. Users often face notifications saying their phone is running out of storage. They sometimes cannot click pictures or record videos simple because there's no space to store them.
In fact, to great frustration and sometimes real loss, users miss out on once-in-a-lifetime photos and videos because their phone just couldn't record it and the moment was gone. You've been there. You know the feeling.
This is when users begin to delete bloated apps and cleaning up their phone.
In this scenario, if you wish to remain on the users phone and not be deleted for the lack of storage, try being a lite app. Lite apps are often just 10 MB or less, when the original app may be well above 100 MB or even 200 MB.
Due to being so light, lite apps also work much faster and let the users get things done in seconds.
Lite apps save money, for you and the user
By consuming less data and bandwidth, lite apps help the users extend their data plan and get more value for their money. For developers too, lite apps bring in plenty of engagement, marketing, and ad revenue while keeping development costs to a bare minimum. By slimming down the number of features and design elements required, lite apps are significantly cheaper to build.
Lite apps work on old/cheap phones
For a lot of people, upgrading the latest smartphone every year or two may be ordinary. For the larger population though, a good quality smartphone is a massive investment and they will try to use it for as long as they possibly can before spending money on a new one.
With technology improving every passing year, old phones tend to fall behind in the race for RAM, storage, and processing power. The thing is, the old phones aren't the ones going rogue here. Just that the newer apps keep on bloating in size and becoming heavier and bulkier. This makes running them on older phones a real test of man's patience.
Lite apps with their low bulk and high speeds work very well on older phones and hence keep the users happier for longer.
Lite apps work in critical situations
Any crisis such as a natural disaster, national emergency, or even war, brings a sea of problems for humanity. Among other things, these crises often lead to power outages and internet blackouts. Reaching out to family and friends, and rescue services becomes a top priority. Sharing information about one's surrounding to help other people, as well as accessing updates from government, rescue teams, and others, often happens through mobile apps like Telegram, Facebook, and WhatsApp.
In times of crises, lite apps can be a lifesaver. They can be accessed on weak networks, they work fast in getting messages across, and don't overspend the phone's battery. In so many ways, lite apps can save the day in times of crises.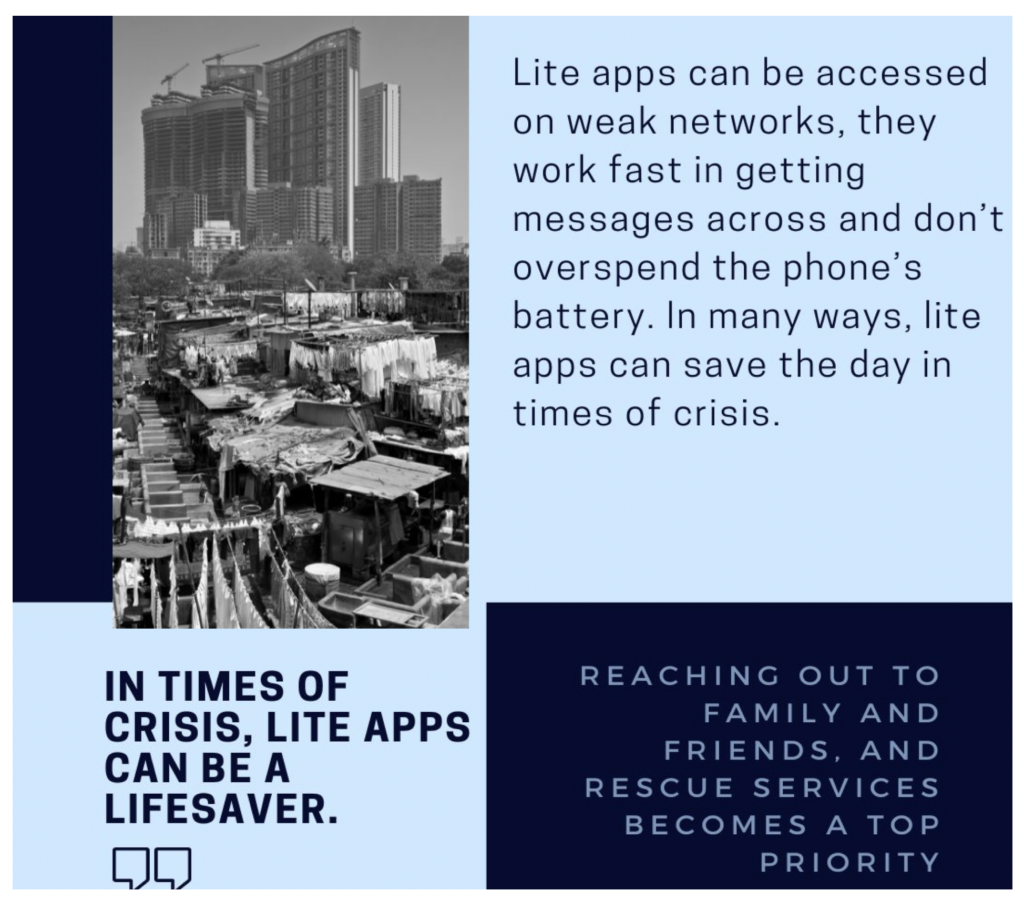 Conclusion
Lite apps are essentially slimmed-down versions of popular apps. The original apps can be hundreds of megabytes in size and with use, bloat up to twice that size. These apps then take up too much space on the phone, often slowing it down. These apps also need excellent internet speed and great connectivity to work smoothly.
Lite apps offer an alternative to these bulky apps. Lite apps offer only the most essential features of an app without the added features or design elements. As a result, lite apps offer adequate functionality within minimum resources. This allows users to enjoy these apps even in limited connectivity or on older, low-storage phones.
Lite apps are a great way to keep your users engaged and provide uninterrupted services no matter where they are and what phone they are using. That is why tech giants like Facebook, Android, Instagram, and all others have lite versions of their apps to reach out to more users and prevent getting deleted.