The iPhone 11 has finally released and at the Apple Special Event at the Steve Jobs Theatre in Cupertino, Tim Cook had quite a few announcements to make. "Give people wonderful tools and they will do wonderful things" was how Tim opened the event, assuring that he has some wonderful tools in store for us, and he did deliver on most counts.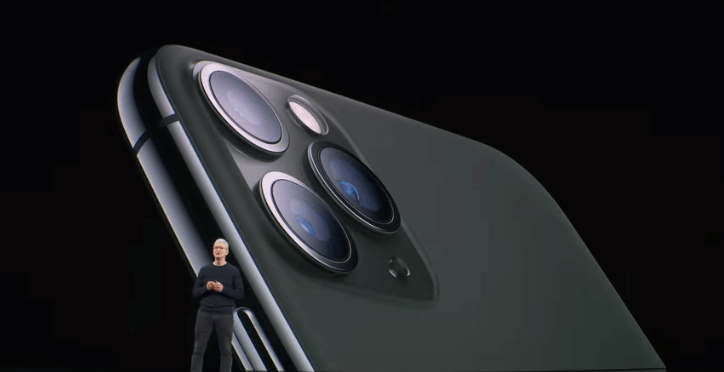 A new range of iPads with the exclusive iPad OS, a host of groundbreaking original entertainment on Apple TV+ and some truly life saving technologies in the Apple watch brought in plenty of cheers and applause at the awaited event. But the stars of the show were undoubtedly the 3 new iPhones – iPhone 11, iPhone 11 Pro and iPhone 11 Pro Max. 
You could say that Apple has played it safe this time, sticking to low-profile changes, making the iPhone 11 rather similar to its predecessor the iPhone X. Priced at $699, $999 and $1099, the phones are definitely on the expensive side, but as we all know, fans will inevitably find an excuse to make spending that much on a phone worthwhile. It is after all, a premium phone from a premium brand.
So here's the exclusive sneak peek at what the iPhone 11 has in store for you and everything you need to know about its features.
IPhone 11 Pro and iPhone 11 Pro Max
So iPhone just went pro, and it truly justifies using that term in its name. The all new iPhone 11 Pro and its big brother, the iPhone 11 Pro Max, are the most powerful and advanced smartphones Apple claims they've ever built. Everything from design to performance to environmental efficiency of this phone are out of the park. Let's talk about it a little bit.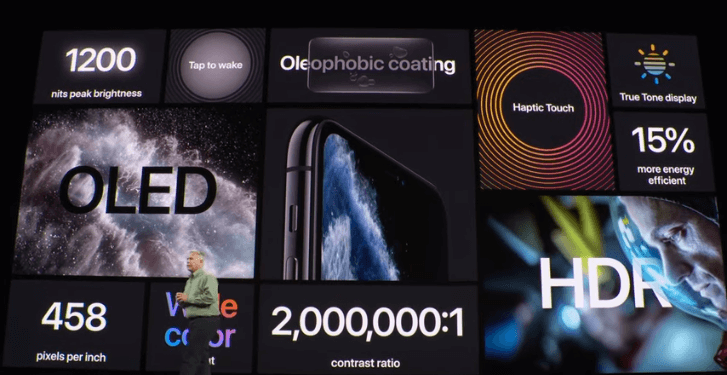 Pro design
Made with surgical grade stainless steel in a matte textured finish, the iPhone Pro comes in some scintillating new colors including midnight green, space grey, silver and new gold. The design looks sleek and absolutely desirable. iPhone Pro sports a 5.8 inch display and iPhone Pro Max gives you a fabulous 6.5 inch display. Apple claims that both these phones have the highest ever pixel density with a 2 million to 1 contrast ratio on a super sophisticated new age OLED panel. The result is a truly vivid and dynamic display like no other.  You get never before color detail with cutting edge HDR 10 that truly makes the immersive viewing experience out of this world. You get to enjoy movies, photos and videos like no other and coupled with the advanced GPU (more on that later), makes your gaming experience truly out of this world.
Three Camera Setup for breathtaking photo and video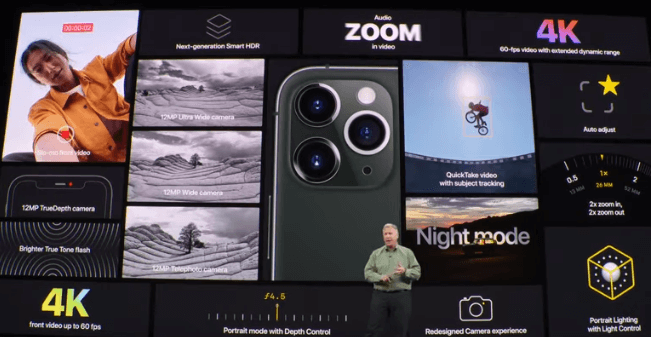 The iPhone 11 Pro and Pro Max will sport a triple rear camera allowing you to capture stunning wide angle photographs. Undoubtedly, this is a feature fans have sought for a while, especially considering how far smartphone cameras have come lately. Apple cannot afford to disappoint fans and hence delivers an exceptional camera experience with three dedicated lenses – the wide, the ultra wide and the telephoto. The wide lens lets you take large and wide photos that allow you to capture so much more context in a picture. The ultra wide truly takes smartphone photography to the next level, putting you at par with the professional grade DSLRs. The telephoto lens offers you 4x optical zoom and captures up to 40% more light allowing you to take brilliant low-light photos and exceptional zoom at any distance.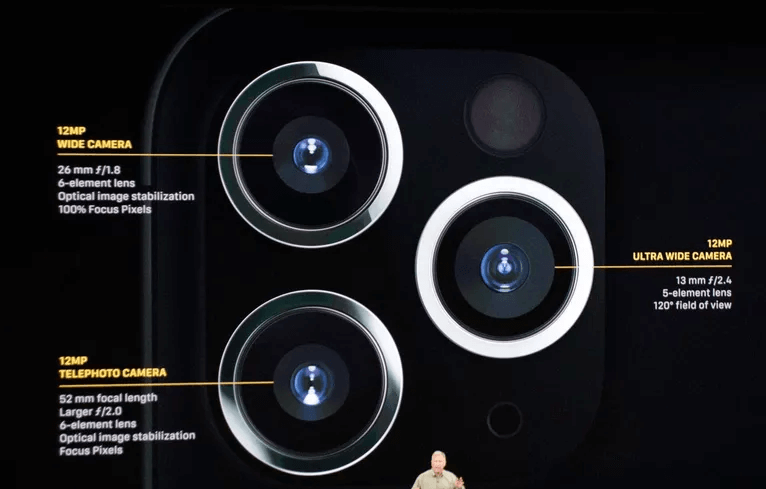 Moreover, the camera uses advanced neural engine for incredible innovations like Deep Fusion computational photography. So without worrying about focus and settings, you get the perfect shot each time. The camera takes 9 shots within a few seconds and arranges a single detailed photo by selecting each pixel carefully to produce the best photo.
Incredible video
All the three cameras come together to give you incredible video recording in 4K quality, thus giving you the most advanced smartphone video camera ever. Incredible detail, perfect blacks, amazing contrast and even a sophisticated inbuilt video editing tool truly make the iPhone 11 Pro and Pro Max a professional level tool that can revolutionize even filmmaking and journalism. Also adding to the magic is iPhone 11's spatial audio that gives you true theatre like sound. Apple promises that this is the highest quality video in a smartphone ever.
Plenty of other nifty features make the iPhone 11 cameras a delight. Quicktake allows you to switch from photo to video mode with just a tap. Similarly, you can switch from wide to ultra wide with just a tap.
Amazing Front Camera now with SloMo
In addition to the great triple camera in the rear, the 7 megapixel front camera too packs in a massive punch. With its incredible 60 frames per second, you can take amazing slow motion selfies or 'Slofies' with your iPhone 11. Its wide sensor TrueDepth camera captures every detail, highlighting every nuance, infusing life into your selfies.
 

Powerful Battery
The iPhone 11 Pro redefines energy efficiency by giving you a battery life that is 4 hours longer than that of iPhone X. in fact, the Pro Max version gives you 5 hours more than the iPhone X. this is a great feat if you think of the beast of a device that these phones are. Apple says they have taken special care to make their devices extra energy efficient by using a bunch of advanced technologies like lighting up only the pixels you are using.
The revolutionary A13 Bionic Chip
Apple has introduced the A13 bionic chip that makes the iPhone 11 an absolute performance king. True quality and amazing architecture make this chip a force to reckon with. Apple claims that with the A13 Bionic, iPhone 11 offers you the fastest smartphone CPU ever and even the fastest smartphone GPU ever. This means that operations happen at the instant of touch and the phone supports the most high-quality graphic games with zero latency.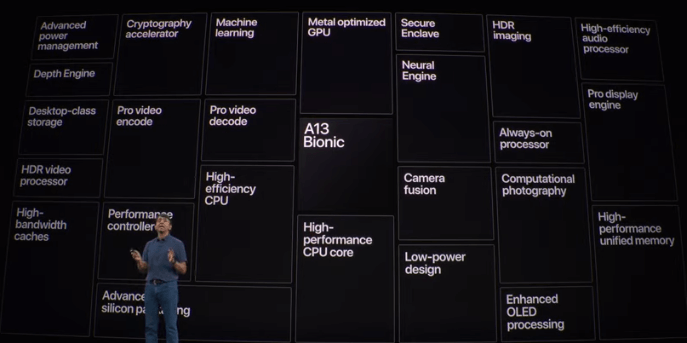 Amazing machine learning capabilities
In addition to the superfast processing power, the A13 Bionic chip packs in so much more power.  It offers the best machine learning platform in a smartphone ever thanks to its 8.5 billion transistors which is the highest number of transistors in a smartphone ever. Moreover, it sports unique architecture that makes it 20% faster than all other engines, providing developers with an immense opportunity to play around with machine learning technologies like natural language processing and image classification.
Built-in Privacy
It this day and age, probably the only thing customers value more that great features, is privacy, iPhone 11 offers top of the line built in privacy features to keep you safe. It has the most secure face id software allowing you to quickly unlock a phone but never letting your data be misused.
iPhone 11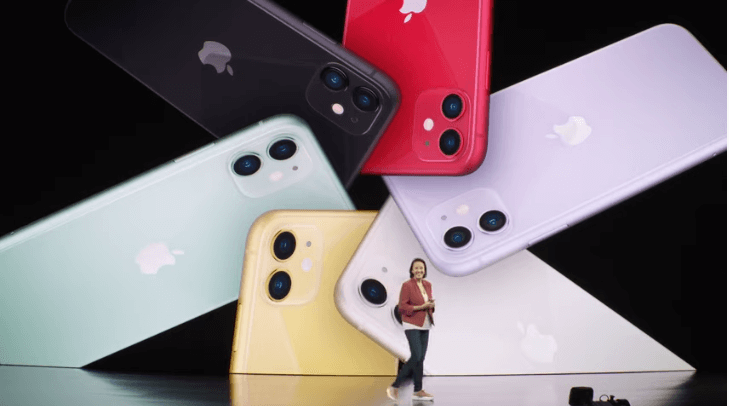 priced at $699, iPhone 11 is undoubtedly a powerhouse of performance and features. Upon the first look, it is quite similar to the iPhone X in that it has the same bezel-less display with a wide notch at the top. Yeah, those of you hoping to see the notch go will probably find some solace in the fact that the notch houses an even more sophisticated sensor that can detect your face even when lying flat, giving you faster unlocking.  Some of the most notable features of the all new iPhone 11 include:
Sleek Body And 6 New Colors
The iPhone 11 sure looks great with its anodized aluminum glass design with toughened glass front and back. Moreover, it comes in 6 new colors including yellow, white, black, purple, green and product red. It has a sleek 3D geometry in design that looks sensational.
Phenomenal Display
The iPhone 11 offers a 6.1 inch display that Apple likes to call liquid retina display. With its spatial audio and immersive Apple Virtualizer and Dolby Atmos sound, the iPhone 11 offers a viewing experience like no other.
Camera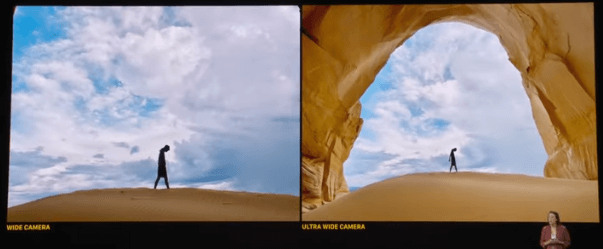 iPhone 11 offers a dual camera with a wide sensor and ultra wide camera offering a 120 degree wide angle for photography. It offers 4K resolution with extended dynamic range and 60 frames per second – across both cameras! We agree with apple – it is pretty cool. With its 2x optical zoom, it lets you take detailed and crisp pictures that shine. An immersive camera interface lets you see outside the frame for edge to edge details, enabling the best shot. It offers wide angle portraits for immaculate detail, a stereoscopic camera that's perfect even for your pets, creative depth of field, night mode, image fusion time and so much more. Even the from camera is so much better, now with 12 megapixel and slow motion videos.

More revelations in the Apple Keynote
Apple Arcade in the App Store
IPhone 11 comes with exclusive access to Apple Arcade, a subscription based feature that allows users to download and play an over hundred brand new and exclusive games that aren't available anywhere else. Available from September 19th, Apple Arcade is available at $4.99 a month for the whole family. One subscription unlocks all games unlimited.
Apple TV Plus
Tim Cook also spoke about Apple TV Plus and the exclusive shows they will be premiering, as a way to tell heartfelt stories. Shows like The morning Show, Dickinson and the famed Jason Momoa starrer See will be available on Apple TV Plus. Available from Nov 1st, Apple TV Plus too is priced at $4.99 a month, with new originals added every month. Also, if you buy a new Apple product, you can get a 1 year subscription to Apple TV+ absolutely free.
iPad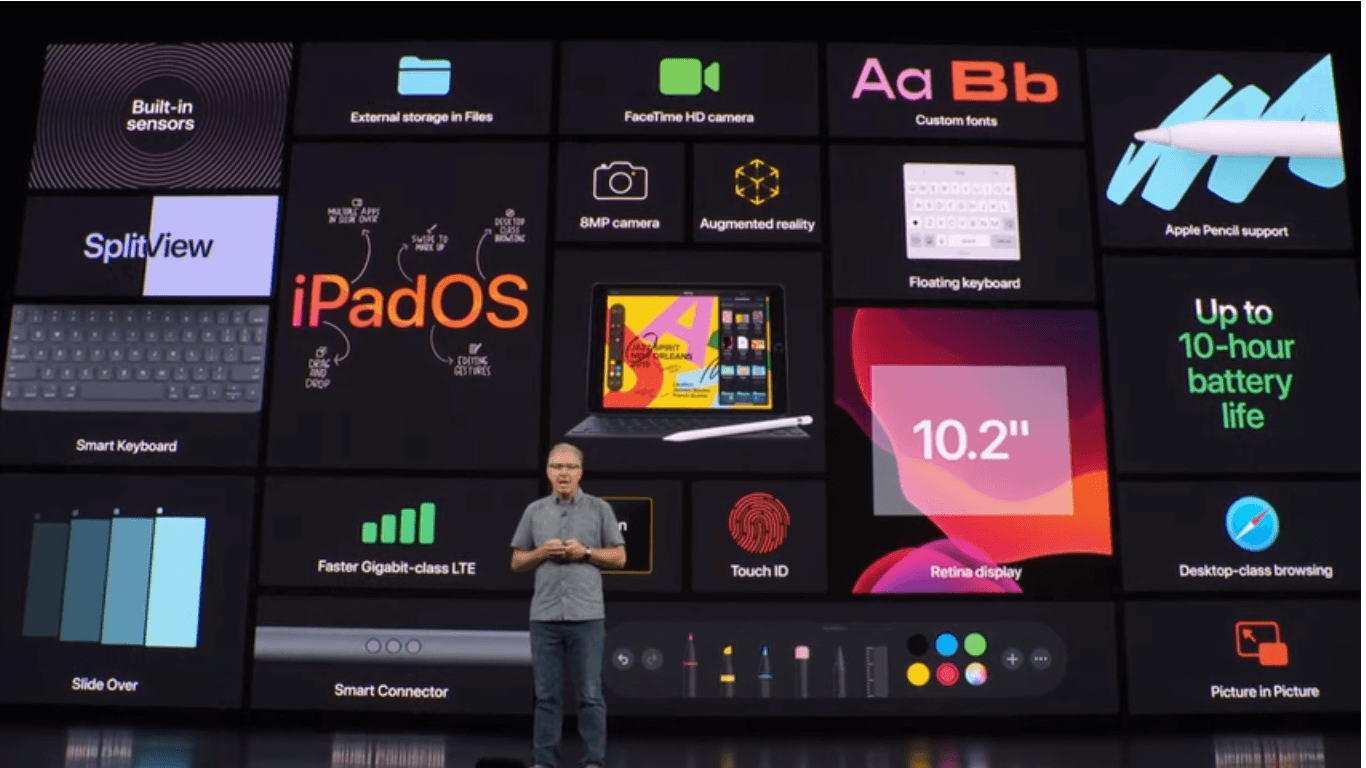 Apple is introducing a whole new line of iPads with cutting edge features and even their own OS called iPad OS. It adds powerful new capabilities to the iPad, specific to the large display. iPad OS gives you access to over 1 billion apps specific for iPad to leverage the large canvas. The new 7th generation iPad sports a 10.2 inch retina display AND is also Pencil friendly and can be yours for just $329.   
Apple Watch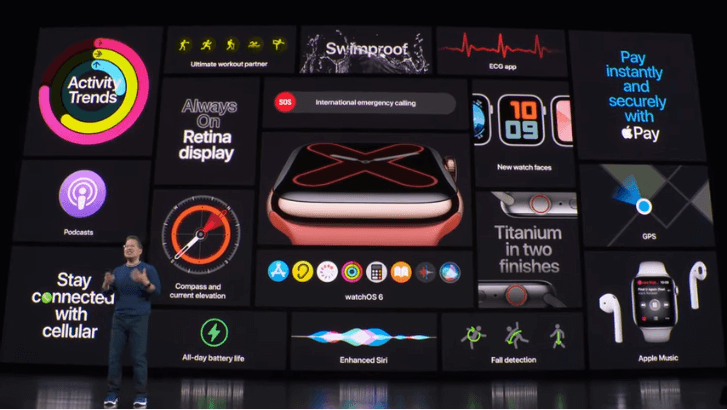 The event also showcased the all new apple watch series 5 with its revolutionary always on display that lets you see time and complications all the time without having to tap or touch any button. It gives an impressive all day 18 hr battery life, a built in compass, the ability to detect you exact latitude/longitude, elevation and incline, and even show you which way you're facing, just like the Maps.
An impressive feature of the apple watch is the emergency SOS feature which is potentially lifesaving, as it lets you place an international emergency call just by pressing a side button even without an iPhone. Clever!
Wrapping Up
Indeed, Tim Cook and his meticulous team have created some truly delightful products this time around as well. While there may not be too much innovation on the design front, the software capabilities and the chip power is surely something to watch out for. We are particularly excited about the ML capabilities of the A13 Bionic, and can't wait to start developing some amazingly detailed apps that leverage the iPhone 11's machine learning platform to its fullest.
Are you excited about developing apps for iPhone 11?
If you'd like to explore development opportunities in iPhone 11's incredible machine learning and ultra-wide camera, get in touch with us and let's develop something truly wonderful.