Online retailing has become mobile first, over the past few years. And now, mCommerce is experiencing a fantastic growth spurt. According to a report published by IBM, Mobile traffic accounted for 45 percent of all online traffic for the 2014 holiday season, an increase of 25.5 percent YoY."
The report further indicated that mobile sales represented 22.6 percent of the total online sales for the holiday season in 2014, which is 27.2 percent increase YoY.
The chart below shows the year-by-year growth projections of the U.S. mCommerce sales.
Mobile Commerce in 2015
Venture capitalists made a $4.2 billion investment in mCommerce from Q3 2013 to Q3 2014, according to a Digi-Capital report. Though a notable amount of this capital went to the multibillion dollar businesses like Pinterest and Uber, it even fuelled many mCommerce start-ups.
By leveraging smartphones and tablets, these mCommerce start-ups are intercepting the daily routines of users and helping them to lead better, happier lives. However, given the fact that mobiles account only 1 percent of the U.S. retail spending ($3.25T) market, mCommerce is still in its infancy.
Smartphone penetration, which is largely contributing towards the growth of mCommerce, is increasing rapidly. In fact, the global smartphone users accounted almost 40 percent of the total mobile phone users in 2014, representing 25% of the global population. With some of this year's major smartphone and tablet releases, the number is likely to increase.
We are therefore likely to see a rapid growth in mCommerce in 2015 and mobile apps will play a great role in it. The following statistics show the growth of U.S. retail mCommerce sales from 2013 to 2015.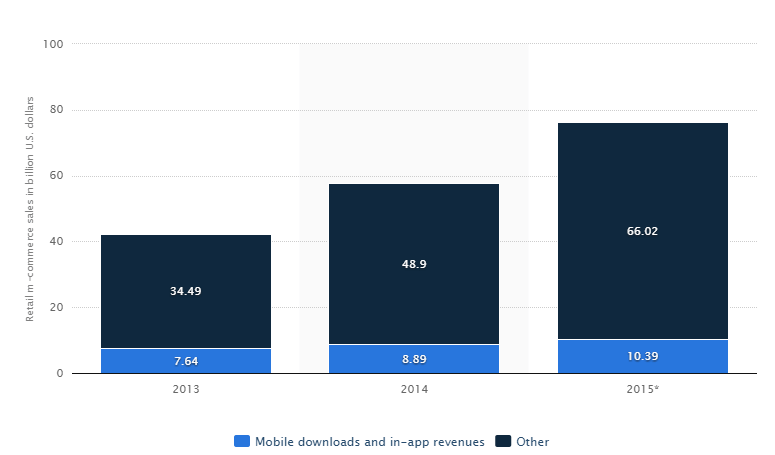 Some of these apps are designed to help users discover new products while others are aimed towards providing better customer support, enhancing their shopping experience.
The Importance of Mobile Search & Apps for eCommerce
According to comScore, 78 percent of mobile searches result in a purchase. This alone justifies the high volume of mobile apps adoption by eCommerce businesses. It is easier for shoppers to search products via mobile applications, creating a great opportunity for online retailers to generate revenue.
Mobile retail is showing a steady growth over the years. In fact, data by Forrester Research indicates that mobile is likely to account for 9 percent of the eCommerce sales by 2017. Although majority of buyers still prefer mobile web over mobile apps when it comes to making a purchase, Adobe predicts that consumers will be more likely to purchase via mobile apps. This infographic by Adobe further shows how mobile apps are creating better opportunities for online retailers.
Mobile apps, therefore, create a very significant market opportunity for eCommerce businesses. This means having a mobile website is not enough; you must compliment your responsive site with a robust mobile shopping app for a seamless shopping experience.
Here is a list of 10 innovative mCommerce apps that you should keep an eye out for.
1. Spring
This mCommerce app offers a photo feed of products to shop from. Spring provides an Instagram-like look and feel, where users can follow the brands they love and shop new arrivals. Its curated community of brands also includes many luxury labels and budding designers. Shoppers can even explore curated collections of editors and influencers.
There is no shopping cart on Spring. In fact, it offers a simple checkout process where users need to first fill out their shipping and credit card info and then just swipe beneath a product to purchase it. Sellers can even send push notifications to a user after he/she likes an item.
Spring also allows users to track and manage their orders. 
2. Wanelo
Wanelo or "wah-nee-loh" (from Want, Need, Love) is an amazing mobile app to find the most amazing products online. The app is often described as a "mall on your phone." But the reach is even bigger and grandeur. Whereas a regular mall features around 150 stores, you will find more than 350,000 stores on Wanelo including both large, popular brands and small independent boutiques.
A shopping entertainment, Wanelo brings a stream of unique products to users. All the products are used and posted by users. You can even search and follow your favorite stores and people and get feed of customized products.
Products available on Wanelo include home decor and furniture apart from fashion, clothes and accessories for men, women and kids. You can even create a wish list on this app.

3. Product Hunt
If you are looking for a mobile app to discover and share latest and trending products, Product Hunt is the one for you. Designed for iOS platform, this app allows you to submit, bookmark and upvote your favorite products. Better yet, you can even follow the conversation with other product followers and founders.
Items available on Product Hunt are mainly related to technology space. Besides, all collections are updated daily and you can hunt for new products in a few taps. 
4. Peach
The tagline for Peach is "Sweeten your life in 9 minutes." This app holds private auctions for items from designer brands for 9 minutes. This flash sales app offers members-only auctions where you can buy products up to an 80 percent discount.
You can name a price for an item and you will have just nine minutes to decide if you want to bid or not. You pay the second highest offer on Peach. This app mostly includes clothing and accessories for women from luxury brands.
While this mCommerce app allows shoppers to buy luxury items at huge discounted rates, it provides a channel for merchants to liquidate their unsold inventory quickly. 
5. Threadless
Threadless sells community-chosen creative designs on clothing. It gives creative minds an opportunity to show their great art to the world and Threadless prints them on t-shirts and hoodies. The company supports their artist community by printing the respective artist's name on each finished item as well as through commission-based award system and annual creative awards.
Users need to submit designs to the company, which will be voted on by other users for a 7-day period. After the end of the scoring period where a score is attributed to the design on a scale of 1 to 5, Threadless decides what gets made.
This app also provides a good deal of discounts on their products.

6. Raise
Raise is a great mobile app for buying and selling gift cards. If you have unwanted gift cards you don't know what to do with, simply download this app and turn those gift cards into cash. List your card from any brand or restaurant for free on Raise marketplace and choose a selling price. You can even list merchandise credits on this app.
Users can access this app to find various discounted gift cards from brands like The Home Depot, Target and Macy's.
The company act as the intermediary between buyers and sellers and facilitates every transaction to ensure a secure exchange. All gift cards are insured and covered by Raise's 100% money back guarantee. 
7. The Gadget Flow
You can discover amazing products available on the Web using this app. The Gadget Flow adds 9 to 12 new items each day. You can even save your favorites products and create private and public wish lists for future references. This mobile app is designed to simplify your online product exploration.
This app provides a simple user interface so that you can discover cool products without unnecessary clutter. In fact, you can explore over 5500 handpicked gadgets in more than 45 categories and buy them on the go.
The Gadget Flow will be launching the app for Windows phones and Android wearables in the coming days. 
8. Uber
This app needs no introduction. Uber is one of the most popular taxi-hailing apps available on the market. It connects riders to drivers and has revolutionized urban transportation. In fact, on-demand taxi hailing has skyrocketed over the past few years. Uber is rapidly expanding its global presence.
This app is a perfect case study for disruptive mCommerce. It empowers and entices the users with lower rates and conveniences. With Uber app, you can compare different vehicle rates and also receive fare quotes. Better yet, this app allows you to get connected to your personal driver at any time.
It is therefore no surprise that Los Angeles now requires all taxicab drivers to use 'Uber-like' mobile apps. 
9. Starbucks
This mobile app is designed for payment and rewards. Use the Starbucks app to pay for your purchases, find stores, earn and manage your reward points, download free weekly music, tip baristas, and more.
The app is immensely popular. An article published by Business Insider reports that in North America the Starbucks app accounted for 5 million transactions a week in the final quarter of 2013. This is again a good example of how mCommerce is infiltrating our daily lives. 
10.Wish
This mCommerce platform is quite popular in North America and Europe. Wish provides users a great of discounts through its marketplace, which primarily includes Chinese manufacturers. It provides an effective, affordable and convenient way of shopping on the go.
You can browse through a huge selection of clothing, trending fashion and accessories for men and women as well as electronic goods. The app even provides a personalized shopping experience, by customizing the product recommendation based on your browsing behavior. 
Conclusion
The aforementioned stats, business insights and current trends indicate that mobile retail apps market is likely to show a steady growth over the next few years. It even has potential to become the backbone of the future eCommerce industry. With an innovative mCommerce app, a retailer can not only stay in touch with their customers but also boost sales and mine richer data to provide a personalized shopping experience for better customer retention. mCommerce apps are therefore indispensable for modern e-retailers.