If you're feeling torn between two of the most loved JavaScript frameworks – ReactJS and AngularJS, this post is just for you.
Choosing the right framework for your project is pivotal to its long term success and scalability. AngularJS, managed by Google has been around for a little longer than ReactJS is owned by Facebook. Both frameworks are easy to use and unique in their own ways. They are both designed to build cutting-edge mobile and web applications. Both have some compelling advantages and a few disadvantages too. This post will perform a comparison of the two, to help you assess which one is more suitable for your project.
JavaScript frameworks are continually developing, and as a result, frequently updated versions of Angular and ReactJS keep surfacing. If we performed a quick study of the demand represented in Google Trends for the last 5 years of Angular and ReactJS, we can see that the two are almost equally preferred, except a few variances. Check out the graph below. The blue and red lines represent Angular, and React.
You can see that both the frameworks have been more or less equally adopted, with Angular leading for some time and React catching up later.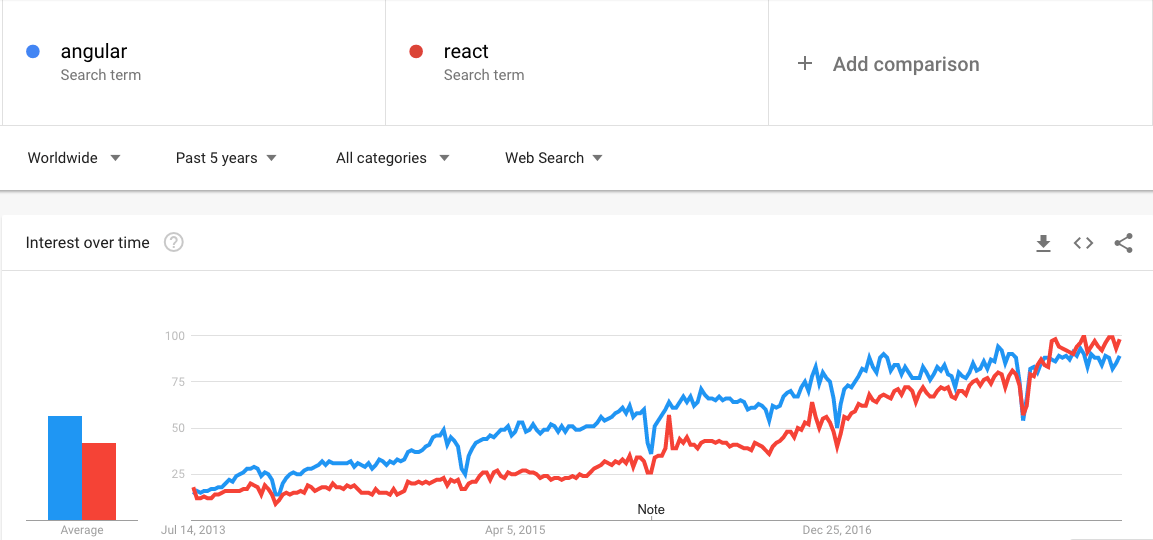 Overall, React and Angular develop organically with relatively the same dynamics. If we try to forecast the demand for these frontend frameworks, then we can see a positive tendency for React while Angular has a slightly declining one.
Taking into account the following data, we decided to share the main advantages and disadvantages of every frontend framework and help tech professionals or engineers to choose the best one for their development needs.
Read also:Angular 6 with CLI – Quick Guide to Installation and Setup
Pros and Cons of Angular
Angular is a JavaScript MVVM framework, founded in 2009, which is awesome for building highly interactive web applications.
Benefits of Angular:
Angular offers new features like enhanced RXJS, really fast compilation (in under 3 seconds), and a new HttpClient launch.
Detailed documentation that allows effective communication and collaboration between developers, although this has a learning curve.
Two-way data binding that enables singular behavior for the app minimizes risks of possible errors.
MVVM (Model-View-ViewModel) allows developers to work separately on the same app section using the same set of data.
Dependency injection of the features related to the components with modules and modularity in general.
Drawbacks of Angular :
The complex syntax that comes from the first version of Angular. Nevertheless, Angular 5 uses TypeScript 2.4 which is the least difficult to learn in comparison.
Migration issues which can appear while moving from the older version to the latest ones.
Companies that use Angular 5: Upwork, Freelancer, Udemy, YouTube, Paypal, Nike, Google, Telegram, Weather, iStockphoto, AWS, Crunchbase.
Pros and Cons of ReactJS
ReactJS is an open-source JavaScript library, created by Facebook in 2013. It is great for building large dynamic web applications where data is changeable on a regular basis.
Benefits of ReactJS:
Easy to learn. React is extremely easy to learn because of its simplified syntax. With their HTML writing skills, developers can easily write in React. No need to learn TypeScript deeply like in Angular.
Extremely responsive and flexible.
Virtual DOM (document object model) allows arranging documents in HTML, XHTML, or XML formats that are better accepted by web browsers while parsing different elements of the web app.
Combined with ES6/7, ReactJS can work with heavy loads with relative ease.
Downward data binding enables data flow that prevents child elements from affecting parent data.
100% open-source JavaScript library with a highly engaged contributor community, resulting in speedy updates and solutions.
Extremely lightweight because the data performing on the user side can be easily represented on the server side simultaneously.
Migrating between versions is generally very easy, with Facebook providing "codemods" to automate much of the process.
Drawbacks of ReactJS:
Lack of official documentation — super-fast development of ReactJS leaves no place for proper documentation which is a bit chaotic now as many developers contribute it individually without any systematic approach;
React is unopinionated — meaning that developers sometimes have too much choice;
Long time to master which means that React JS requires deep knowledge of how to integrate user interface into MVC framework.
Companies that use ReactJS: Facebook, Instagram, Netflix, New York Times, Yahoo, Khan Academy, Whatsapp, Codecademy, Dropbox, Airbnb, Asana, Atlassian, Intercom, Microsoft.
CONCLUSION
For a real engineer, there isn't much difference among frameworks to choose. All it takes is a little getting used to. In our company, we grow expertise in mostly ReactJS as well as Angular 2/4/5. Every framework has its own pros and cons, and what you choose depends largely on your business goals and personal preferences. If you need help deciding on one among the two, drop us a line and we can help you choose the one that perfectly fits your requirements.